Antonin Scalia Attacks Supreme Court for Same-Sex Marriage Ruling in Rhodes College Speech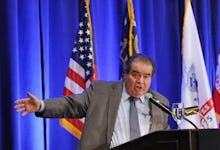 On Tuesday, Justice Antonin Scalia lambasted his own Supreme Court for ruling in favor of legalizing same-sex marriage across the United States. During a speech at Rhodes College, the university his grandson attends, Scalia spoke to 500 attendees at the school's Constitution Day and described the decision as "the furthest imaginable extension of the Supreme Court doing whatever it wants," according to the Associated Press.
"Saying that the Constitution requires that practice, which is contrary to the religious beliefs of many of our citizens, I don't know how you can get more extreme than that," Scalia said, the AP reports. "I worry about a Court that's headed in that direction."
Scalia didn't hesitate to criticize his colleagues, five of whom voted in favor of same-sex marriage, saying they were not representative of America as a whole, but the East and West coasts, from which several of them come.
"You should be upset because these people are making a new Constitution and they are terribly unrepresentative of the country," he said.
Scalia is the longest-serving Supreme Court Justice, having sat on the bench for 29 years — he was appointed by then-President Ronald Reagan in 1986. 
Scalia also argued his colleagues who believe the Constitution's interpretation evolves alongside the evolution of the country are actually making the Constitution less flexible.
"It's no use talking about abortion anymore. It's just off the democratic stage," he said at Rhodes. "No use arguing about it, coast to coast, now and forever, or unless the Supreme Court changes its mind. Is that flexibility?"
The justice strongly opposed the June 26 Obergefell v. Hodges ruling, which nationally legalized the rights of same-sex couples to marry.  He wrote a scathing dissent on the decision: "When the Fourteenth Amendment was ratified in 1868, every State limited marriage to one man and one woman, and no one doubted the constitutionality of doing so. That resolves these cases." 
"The opinion is couched in a style that is as pretentious as its content is egotistic," Scalia added.