Meet the High School Student Shattering Stereotypes About Girls and Football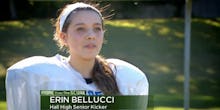 From Serena Williams to Mo'ne Davis to Ronda Rousey, it's clear gender has nothing to do with athletic excellence. Following in their footsteps, young women are increasingly demanding access to sports stereotypically deemed masculine — and they're succeeding.
West Hartford, Connecticut, high school student Erin Bellucci, now the senior kicker for Hall High School's football team, is one such student. While she played soccer for three years in high school, Bellucci revisited her childhood dream to become "the first girl in the NFL" last spring, she told NBC. Her father, a longtime high school football coach at another Connecticut school, helped her train, and sure enough, she earned the coveted spot on her school's team.
"I've been surrounded by football my whole life," Bellucci told NBC. "So it's kind of second nature. It's kind of meant to be, almost."
In addition to her coach father, her uncle is none other than Eric Mangini, the former head coach of professional teams like the New York Jets and the Cleveland Browns.
Bellucci joins a growing group of women successfully making waves in the male-dominated sport. Jen Welter became the first woman to play in a men's professional football game when she joined the Indoor Football League's Texas Revolution game in 2014, for example, and student Shelby Osborne signed on to become Campbellsville University's first female defensive back last year.
Their accomplishments are particularly noteworthy given that before the landmark Title IX was passed in 1972, mandating that all schools extend equal educational and athletic opportunities to students of all genders, only 1 in 27 female students played high school sports, according to the Women's Sports Foundation. Four decades later, however, 2 in 5 high school girls compete.
It seems this statistical shift may be accompanied by a shift in cultural attitudes too. While Bellucci said being surrounded by male players was "intimidating," she also noted that she has felt "they treat me like every other player," Bellucci told NBC. And the rest of her team seems to agree.
"As long as you're pulling to commit the way everyone else is, then it's a great thing," Bellucci's coach, Frank Robinson III, told NBC.
"Football is such a macho sport," a male team member added. "To come in and be able to play with us, it's kind of special that she's able to do that."
But other young aspiring female football players haven't always been so lucky. After being banned in January from playing alongside her male peers in a Philadelphia Catholic youth football league for the second time, 13-year-old Caroline Pla launched a Change.org petition against what she and her parents saw as an illegal Title IX violation and fought to rejoin the team. 
Bellucci ultimately encourages other young women to never give up on their dreams, no matter what obstacles they may face, in athletics and elsewhere.
"If this is something you want to do — anything, whether it be kicking, football, or scared to try out for a show, or anything, do it," she advised other young girls. "You can really do anything if you put your mind to it."
h/t NBC Connecticut