Saudi Hajj: Stampede at Mecca in Mina Kills Hundreds of Pilgrims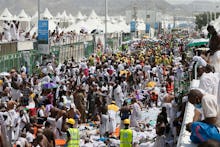 More than 700 people have been killed in Saudi Arabia in a human stampede just two miles from the holy city of Mecca. The chaos erupted among the hundreds of thousands of people taking part in the hajj pilgrimage on Thursday when a sudden surge in the crowd sent hundreds of pilgrims to the ground, CNN reports. It was the deadliest disaster in hajj history since 1990. 
At least 800 more people were injured in the stampede. Some 4,000 rescue workers were on the scene, according to CNN. "We have a stampede accident in Mina, and civil defense is dealing with it," an Interior Ministry spokesman told CNN. 
More than 2 million Muslims from across the world are taking part in the annual hajj pilgrimage, USA Today reports. Islam requires any Muslim capable of traveling to the holy city to do so at one point in their lives.
Thursday's stampede wasn't the first time chaos ensued from the packed event. In 2006, 350 people were killed during another surge in the crowd, USA Today reports. Just a day before the 2006 stampede, tragedy struck when an eight-story building collapsed just outside of the Grand Mosque, killing 73 people. 
Thursday's stampede followed a recent crash in Mecca's Grand Mosque, where over 100 people were killed after a crane collapsed onto worshippers below during construction on the holy site. 
Sept. 24, 2015, 9:45 a.m.: This story has been updated.