Amy Winehouse Documentary Used By Social Workers In Thailand To Scare Kids Away From Drugs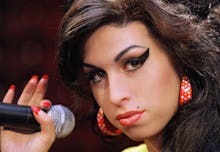 Don't be like Amy. That's the message that Thailand's Thai Health Promotion Foundation and the Stop Drink Network are attempting to send to at-risk teens. 
This past Wednesday, 100 teens from a juvenile detention center in Thailand watched this year's documentary film Amy, which tracks Amy Winehouse's career-long battles with drugs and paparazzi. The hope, it seems, is that her story will motivate teens to steer clear of drugs and alcohol.
"I think Amy's story is a real story that reflects real problems in the society, especially among teenagers," Kamron Chudecha of the Stop Drink Network told the Associated Press. "When Amy felt too much pressured, she acted out and started drinking, but she was gifted and she found that gift. It's not too late for the students to find their gifts and learn from her mistakes."
Though director Asif Kapadia likely never intended it, Amy may now be the most critically acclaimed and commercially successful anti-drug PSA ever.
Amy shows the entirety of Winehouse's career, though much of it focuses on her inescapable addiction, encouraged by her enabling husband and father. However, much of her appetites seem motivated by her frustrations with her fame. "If I could give it all back just to walk down the street with no hassle, I would," Winehouse would say before her death, as relayed in the documentary. 
Most of the teens in Thailand's detention center likely won't have to worry about the tribulations of fame. Yet organizers say the film offers lessons nonetheless.
"These kids think the society labels them as drug addicts, alcohol addicts and criminals. When one hits rock bottom, it takes a lot of courage to fight the loneliness and criticism, like when Amy has to fight the media attention and people around her," Chudecha said. "Amy lost the battle, but these kids still have a chance."
Watch the trailer for Amy below.
h/t Uproxx