Kenan & Kel Have "Good Burger" Reunion on 'Tonight Show Starring Jimmy Fallon'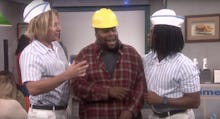 "Welcome to Good Burger, home of the Good Burger, can I take your order?"
Jimmy Fallon can, and last night he served us '90s kids a serious throwback when he reunited Kenan Thompson, 37, and Kel Mitchell, 37, on the Tonight Show Starring Jimmy Fallon for a good old-fashioned "Good Burger" sketch, made famous by the Nickelodeon sketch show All That that later turned into the 1997 movie of the same name. 
The sketch is complete with incompetent order-taking, mustard spewing all over a customer and, of course, the anthem, "I'm a dude. She's a dude. He's a dude. We're all dudes, hey!" 
Would you like a side of Good Fries with that?