Fetty Wap's New Album Is Now Streaming Online, Here's How to Listen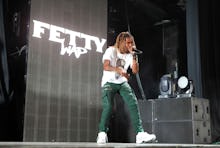 Fetty Wap's hotly anticipated, self-titled debut LP is expected to surface on Friday, but the record is now streaming on NPR (come our way, Fetty Wap). The hip-hop album boasts 20 tracks, among them runaway hit singles "Trap Queen," "679," "My Way" and "Again." 
So far, the astronomical rise of the Paterson, New Jersey, rapper is astounding. Fetty Wap made hip-hop history when all four of his singles concurrently broke into the top 10 spots of Billboard's Hot Rap Songs, Consequence of Sound reports. And in July, he was named artist to watch at the MTV Video Music Awards.  
"Watching from the sidelines, the rise of Fetty Wap felt inexorable and hilariously American," wrote NPR's Frannie Kelley. Importantly, she adds, "But he did it his way. 'Trap Queen' caught on before 300 Entertainment got involved." 
"My Way," another notable standout of Fetty Wap's forthcoming record, even got Drake's seal of approval with a remix. Check out the track list below, and super fans take note: Fetty Wap and Drake are rumored to be collaborating on "something big," according to Rap-Up. For more on Fetty Wap, including his recent appearance on The Tonight Show Starring Jimmy Fallon, check out Mic's previous coverage. 
Fetty Wap track list:
1. "Trap Queen"
2. "How We Do Things"
3. "679"
4. "Jugg"
5. "Trap Luv"
6. "I Wonder"
7. "Again"
8. "My Way"
9. "Time"
10. "Boomin'"
11. "RGF Island"
12. "D.A.M."
13. "No Days Off"
14. "I'm Straight"
15. "Couple Bands"
16. "Rock My Chain"
17. "Rewind"
18. "Let It Bang"
19. "For My Team"
20. "Whateva"