Pope Francis Urges US to Embrace Immigrants in Impassioned Plea to Congress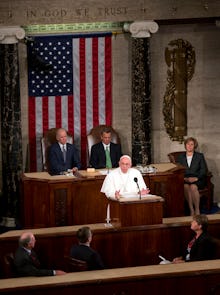 In a historic, wide-ranging speech before a joint meeting of Congress on Thursday, Pope Francis urged lawmakers on Capitol Hill to step up and embrace immigrants fleeing poverty and persecution from the Americas to the Middle East. 
"We must resolve now to live as nobly and as justly as possible, as we educate new generations not to turn their back on our 'neighbors' and everything around us," Francis said, speaking in English to steady rounds of applause from the bipartisan gathering of members of Congress.
"We must not be taken aback by their numbers," he continued, "but rather view them as persons, seeing their faces and listening to their stories, trying to respond as best we can to their situation. To respond in a way which is always humane, just and fraternal."
Francis, who spoke on Wednesday at the White House and will address the United Nations on Friday in New York, is the first pope to appear before a joint meeting. Despite his near universal popularity, the historic visit has deep political implications for members of both parties.
Immigration on his mind: The pope delivered his most impassioned message on behalf of the global poor and refugees now seeking out new homes in Europe and the United States.
"We, the people of this continent, are not fearful of foreigners, because most of us were once foreigners," Francis, a native of Argentina, declared. "I say this to you as the son of immigrants, knowing that so many of you are also descended from immigrants."
Florida Sen. Marco Rubio, who has grappled with the politics of immigration reform, first backing a bipartisan plan to create a "path to citizenship" for people now living in the country without documentation before abandoning that route, could be seen wiping tears from his face as Francis discussed those families. 
The challenges now at hand are not without precedent, and the way forward, Francis said, should be guided by "the Golden Rule," a social touchstone derived from Biblical verse.
"Let us seek for others the same possibilities which we seek for ourselves," Francis said. "Let us help others to grow, as we would like to be helped ourselves. In a word, if we want security, let us give security; if we want life, let us give life; if we want opportunities, let us provide opportunities."
Then, in perhaps the sharpest line of his speech, the pope warned of the dangers created by a society too willing to trade its liberty for the promise of physical security.
"We know that in the attempt to be freed of the enemy without," he said, "we can be tempted to feed the enemy within."
Watch the pope's full address to Congress below: