iPhone 6s Release: Stores Selling 6s and 6s Plus and Tips for Walk-In Purchase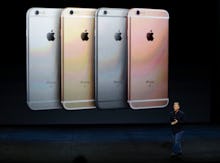 Apple's highly anticipated iPhone 6s and iPhone 6s Plus will be available to purchase at Apple retail stores and carrier locations beginning Friday, Sept. 25.
The latest iPhone iterations will be available for walk-in purchase at 8 a.m. local time at most Apple stores throughout the country, except for in five states without a statewide sales tax — Alaska, Delaware, Montana, New Hampshire and Oregon. In those states, as well as in China, Hong Kong and Japan, the phones will be available by reservation only, Apple said in the footnotes of a press release.
The new smartphones will also be available for walk-in purchase Friday morning at any AT&T, Sprint, T-Mobile or Verizon Wireless location, as well as any additional carriers and select authorized Apple resellers, according to the company. 
Apple obviously suggests arriving at all locations early. However, smartphone users familiar with the hype surrounding the iPhone 6 release know arriving even a few hours before opening won't cut it. 
Waiting in line for a new iPhone can take hours or even days and in some cases, stores run out quickly. That's why, as in previous years, the company is limiting iPhone purchases to two per customer per day, according to 9To5Mac. 
Six people were already lined up to await their new iPhones at an Apple store in San Francisco on Tuesday, CNET reports. One man in Australia camped out at Sydney's flagship Apple store on Sept. 8, Mashable reports.
Another Australian is just as determined, but she was a bit more clever. The woman sent a robot to hold her place in line, Mashable reports. Now that's the true meaning of work smarter, not harder. 
The line at the Fifth Avenue Apple store location in Manhattan started days ago.
And there was already a line for the iPhone 6s and 6s Plus when this guy arrived at an Apple store in Arizona on Tuesday.
Apple unveiled the iPhone 6s and 6s Plus at its fall 2015 Keynote address on Sept. 9. The tech monster's newest phones boast a chip that makes them 70% faster than the last model, 4K video quality (same as the GoPro) and a 12-megapixel camera.