Is Jon Snow Dead? Latest News and Rumors Around 'Game of Thrones' Character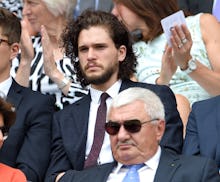 Fans of George R.R. Martin's Game of Thrones series tend to be of the diehard variety, which means that the death of Kit Harington's character, Jon Snow, during season five's finale sparked widespread devastation. However, the rumor mill has been churning all summer long as fans hold out for a Harington comeback. Here's a roundup of everything we know (warning: spoilers abound).
Theories seem to be mounting by the week in the lead-up to the premiere of season six, which could be April 3, 2016, according to Digital Spy. HBO executives maintain that Harington's character is dead,Time reports. That's nonnegotiable, according to HBO programming president Michael Lombardo. "Dead is dead is dead is dead," Lombardo said at the Television Critics Association press tour in July. "He be dead."
Despite Lombardo's confirmation, some fans have settled firmly on the initial stage of grief: disbelief. Others reject the supposition outright. Still others point to more radical explanations to justify Harington's inevitable return (for instance, could Snow have a twin?).
According to Game of Thrones fan site Watchers on the Wall, Harington was spotted in Northern Ireland on the set of season six earlier this month. Fans took to Twitter shortly thereafter to confirm Harington sightings in Belfast, alongside co-star Iwan Rheon. 
Harington has also maintained Snow's hairstyle, which some fans think is proof enough that the character lives. That theory even has a dedicated Twitter handle, @hairwatch2015. 
Perhaps the real kicker came in mid-September, when Harington supposedly fumbled while speaking with Belgian weekly Humo. When asked how many more seasons he would give to Game of Thrones, Harington held his ground.
"I can't talk about that," Harington said, per Vulture. "Let's just say that Game of Thrones will remain a part of my life for a while; I'll probably be in my 30s when it's over. One thing's for sure: The day I'm no longer on Thrones is the day I'll bury myself in movie projects."
Only time will tell if Snow will make a comeback, and what shape that supposed return might take. If you're still lusting for more Game of Thrones fan fodder, head to the Week  for a list of what to expect when you're expecting winter to come.