These "Jeans" Could Be the Pants That Sneaker Lovers Really Need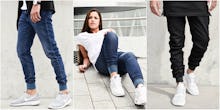 The logic is pretty simple: If you're a fan of deluxe, highly coveted sneakers, doesn't it make sense that you should also invest in pants that best show off your kicks?
That's the rationale behind a new Kickstarter campaign for "Sneakerjeans," pants specifically designed to work with your treasured sneakers.
If Sneakerjeans sounds a little niche, not to mention kitsch, that's because they are. The jeans, which come in black and blue, look like a cross between your favorite skinny jeans and jogger pants, the kind of trendy sweatpants that cinch at the ankle. 
On a practical level, it's the ideal marriage: Jogger-style sweats have become a favorite of sneaker enthusiasts since the tight ankles keep the pants from obscuring their latest Jordans or Yeezys and sending them to the hall of shame. Sneakerjeans bring that advantage to jeans, plus eliminate the problem of raw blue denim dye smudging off on white sneakers. 
"If you want to create the perfect combination that will make you look like a fashion model, then you need to wear the right kind of jeans. Unfortunately, most people wear jeans that destroy their style completely," reads the description on the Sneakerjeans Kickstarter page. 
"We need something special, more than just jogger pants, to go out and look fresh and stylish [while] wearing my loving sneakers," Sneakerjeans founder Yeliz Bilgin, who is based in Germany, told Mic. "I am big fan of sneakers and always trying to fit my clothes perfect with my sneakers."
Jogger pants are part and parcel of sneaker culture: The introduction of jogger pants is an outgrowth of the ever-growing craze for sneakers, Complex reported in 2014. The style supposedly first came on the scene in the United States in 2010, when Alex James, the brand manager streetwear distributor Publish, wore a pair of Marc Jacobs pants cinched at the ankle.
"I was like, 'These are going to be the future because everyone's been trying to roll their pants, get them tailored, and you don't have to do it. It's already done for you," James told Complex. The style grew from there, now to be found everywhere from J. Crew to Target, thanks to the help of streetwear and sneaker culture.
The world of sneaker fandom is immense, comprised of "sneakerheads," or people who regularly collect, trade and sell sneakers, organize and attend conventions like Sneaker Con, where they're joined by hundreds of other enthusiasts. As a whole, sneakerheads account for just a fraction sneaker sales, but they're a community that can "create a lot of hype and buzz that can be good for brand equity," Matt Powell writes at Forbes. If Sneakerjeans can tap into that committed audience, they'll be off to a good start. 
"Jogger pants are a part of sneaker culture," Bilgin told Mic. "We love them too, but denim is leveling up your style."
Sneakerjeans, which just launched its campaign Thursday, has just 10 backers and has raised about $1,300 out of a goal of $16,995. Time will tell if it reaches its goal before the end of November. In the meantime, you can go to your local J. Crew, Zumiez or Forever 21 for a pair of non-denim jogger pants.