Mecca Stampede: Photos Reveal the Devastation at Hajj Pilgrimage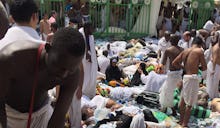 Over 700 people were killed Thursday morning in a sudden stampede as hundreds of thousands were partaking in the annual hajj rituals in Mina, a neighborhood just two miles from Mecca. As millions of Muslims travel to the Holy City for the religious holidays, the surrounding area is dealing with one of the deadliest disasters to strike the region since 1990 due to swelling crowds.
A similar surge in 2006 killed nearly 350 people, forcing the government to spend over $1 billion on further security measures to prevent a stampede from occurring again. However, the growing number of Muslims taking part in hajj means such tragedies could happen again. At least 2 million people are expected to take the pilgrimage this year alone, the Associated Press reports. 
At least 4,000 emergency responders rushed to the chaotic scene Thursday that occurred during the stoning ritual, a two-day event during the five-day hajj where pebbles are thrown toward the three pillars in Mina as a religious tradition. As questions arise over whether Saudi Arabia has the infrastructure to support the millions of people who travel to Mecca each year, images from the deadly stampede are beginning to circulate. 
Hundreds of thousands of Muslims were partaking in the Stoning of the Devil ritual on Thursday morning when a deadly surge killed over 700 people.
The two-day event attracts members of the Muslim religion from all over the world, even though it's considered one of the most dangerous rituals performed during hajj.
A sudden surge in the crowds at 9 a.m. local time crushed thousands, causing Saudi Arabia's civil defense to send thousands of responders to assist injured victims.
Hundreds of victims were rushed to surrounding hospitals following Thursday morning's stampede as the number of injured steadily rose throughout the day.
Although 4,000 emergency responders were immediately sent to the scene, the large number of casualties and badly injured victims appeared overwhelming.
As the bodies continued to pile, men and women gave their shirts and shawls to drape the deceased as they awaited further assistance.
The victims come from all walks of life and have traveled from across the world for the required religious pilgrimage.
To some Muslims, passing away during hajj is considered an immediate entry to heaven. As millions celebrate taking pilgrimage to the Holy City of Mecca over the next few days, the entire Islam community will feel this tragic loss for years to come.