Instagram Food Porn: Here's the Most Popular Instagrammed Food Item — And It Isn't Coffee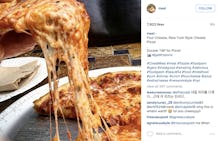 It's cheesy, saucy and carby, it's probably your drunk-eating food of choice, it may even be your significant other and it's definitely the most popular food on Instagram. That's right, a recent study shows that pizza is the most Instagrammed food of all.
The study was a collaboration between communications company Klaus Davi and chef Alessio Mecozzi that analyzed Instagram to compare culinary trends across countries, Vice reports. Besides finding out just how popular pizza is on the social photo-sharing app, the study also found New Yorkers Instagram #pizza three times more than the people of Naples, the birthplace of pizza.
If that's not impressive enough, the United States consumes an average of roughly 28.7 pounds of pizza per person each year, which is twice the amount consumed in Italy, according to the study. The National Association of Pizza Operators puts the average pizza consumption in the U.S. at about 23 pounds per year, about 5.7 pounds fewer than the figure from Klaus Davi. 
The research also found that out of the 300 million food photos (Instagram recently topped 40 billion pictures in total) on Instagram, 17 million of them contained the hashtag #pizza, or nearly 6%. 
These statistics aren't all that surprising. After all, what's more food-pornographic than pizza? On the other hand, it's amazing that Instagram hasn't censored it by now. 
Luckily, they haven't. #Pizza2016. Let's get it trending.