Vertu Signature Touch: Price, Release Date, Specs and Features of Premium Smartphone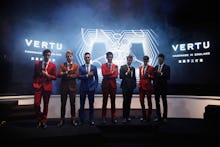 The Signature Touch, a posh new smartphone from British manufacturer Vertu, makes the iPhone 6s looks like a chump. It's also out of reach and out of taste for most consumers, unless they have endless money and a craving for animal skin-coated technology. 
Vertu unveiled its upgraded Signature Touch smartphone this week. It features a 21-megapixel camera, 4 gigabytes of RAM storage, an alligator skin and titanium exterior and a shiny $9,900 price tag — for the basic version, that is. Fancier versions can cost nearly $21,000. 
The Signature Touch will be on the market Oct. 16, with preorders beginning Monday, according to the International Business Times.
The smartphone, which is designed and assembled by hand in England, features a 5.2-inch LCD screen, 4G LTE coverage and 4K video, essentially ultra-high definition recording built into the device.
The phone also includes a personal assistant that, unlike Apple's Siri, comes in the form of an actual person who can handle all the urgent errands anyone with at least $9,900 to spare on a smartphone must have. 
Just about the only spec where the iPhone remains a competitor is its front-facing camera. While the upgraded Vertu smartphone has a 2.1-megapixel front camera, the iPhone 6s boasts 5 megapixels. Perhaps millionaires don't have time for selfies?
The Signature Touch runs on Android 5.1 and has a built-in Qualcomm Snapdragon 810 processor, offering up some of the latest technology in the mobile industry, according to the company's website. Vertu plans to release the phones exclusively in an upscale department store in London's Royal Borough of Kensington and Chelsea, called Harrods.