Plus-Size Porn Is on the Rise — But Not for the Reason We Think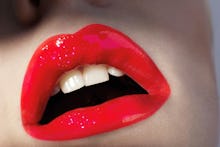 Body positivity has been having a moment as of late. Plus-size models are dominating runways and magazines. The tyranny of the "thigh gap" has been usurped by the somewhat more fat-friendly "thighbrow." In a duet with self-proclaimed "thick" chick Nicki Minaj, Drake has even declared, "I like my girls BBW," referring to "Big Beautiful Women," a niche genre of porn featuring women that are, well, big and beautiful.
However, even though we pay a lot of lip service to women like models Nadia Aboulhosn and Tess Holliday, is the body-positivity trend in the style sphere reflective of a larger phenomenon? Is our culture becoming more accepting of bigger women, both in the fashion world and in the privacy of our own bedrooms? In short: Are we increasingly masturbating to plus-size porn? 
Mic recently teamed up with XXX superpower Pornhub to find out.
Pornhub searches for "BBW" have skyrocketed in the past two years. Users' BBW searches have increased by 47% since 2013, indicating that interest in larger women has been ascending for quite some time now.
"The 'ideal body' is a thing of the past. This year has been a celebration of body positivity, championing curves and finding beauty and sex appeal in all different types of physiques," Corey Price, Pornhub's vice president of operations, told Mic. "I think there is an absolute correlation between this and why the searches for BBW have increased 47% from 2013 to 2015."
The increase can be seen in the porn-searching habits of smut-lovers across the United States — particularly in Georgia, which experienced a 41% increase alone in searches. 
So who are the site's most popular BBW porn actresses?
We have a chart for that, too!
This is where things get a bit murky. Carmella Bing, who is the far-and-away leader of the pack of actresses whose names are searched with the term "BBW," is actually not much of a BBW to begin with. She doesn't market her work as BBW and running a quick Google Image search for the porn star pulls up a number of photographs in which she looks, with large breasts and a small waist, like a conventionally attractive porn star. Runner-up Vanessa Blake isn't much larger.
While some of the stars on the list do indeed adhere to the traditional BBW model, such as Cotton Candi and Crystal Clear, the fact that women like Bing are labeled "BBW" is similar to the controversy over labeling larger models as "plus-size," when they are in fact quite average. Nowhere was this more apparent than back in February, when everyone got excited for Sports Illustrated to feature their first ever plus-size model — only to find out that it was 6-foot-2, size 12 beauty Robyn Lawley. 
Social media users were quick to call bullshit:
In porn, things are done a little differently. When asked why stereotypically slim porn stars are labeled BBW on Pornhub, Price was somewhat circumspect. 
"I don't think it's as cut and dry as in the modeling world, where if you're x or y size and up, you are designated as a plus-sized," Price told Mic. (For the record, "plus size" is a term used to describe models size 8 and up in the mainstream fashion industry.) 
"I'd say it's on more of a sliding scale but it all comes down to branding content. A lot of porn stars today actively self-brand on social media as well as personal websites and describe themselves with words like buxom, curvy and voluptuous, in the same way that others call attention to the fact that they might be redheads or have very small feet. It's niche marketing."
But even with actresses self-defining their characteristics, confusion can still run rampant. Porn star Siri addressed this phenomenon head-on in a Reddit AMA last year after someone asked her about whether or not she felt "pressure" from the porn industry to get in better shape.
"The concept of what a normal, healthy woman looks like is warped in the adult film industry. I have seen myself incorrectly labeled a 'BBW' (Big Beautiful Woman), which is considered a niche in the porn industry, typically referring to very overweight and obese women," she said. "I am well within the healthy weight range for someone my height; at most I would consider myself 'thick,' because I have a big butt and thick thighs."
The data isn't all wrong, though. Many of the other actresses on the most-searched list, like third-place Sofia Rose, are indeed proud, self-proclaimed BBWs. So it's not that users aren't totally interested in BBW porn — they just may not be quite as into it as the numbers suggest.
If nothing else, the increased popularity of this niche porn genre does point to a larger trend in our culture — but not in the way we might think. Just as celebrities like Nicki Minaj and Kim Kardashian are praised for their "curves" despite being very fit and slender women, the popularity of so-called "BBW" porn indicates that as a culture, we seem to be most accepting of "larger" women when they aren't actually that large in the first place.