National One-Hit Wonder Day 2015: 9 Forgotten Artists Famous for One Song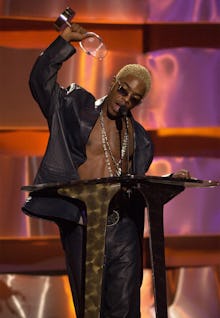 Friday marks one of the most overlooked holidays on the calendar year: National One-Hit Wonder Day! To commemorate the little-known holiday, we've pulled together a list of nine classic one-hit wonders (admittedly, the list could go on forever). These are songs that propelled undercover acts to momentary fame, and songs we loved and left but just can't forget. 
1. A-ha, "Take On Me"
"Take On Me" appeared on the Norwegian synth-pop group's first studio album, Hunting High and Low, in 1985. The following year, the music video, directed by Steve Barron, won seven awards at the MTV Video Music Awards, including best new artist and viewer's choice.
2. Deee-Lite, "Groove Is In the Heart"
Released in 1990 by the America disco/dance group Deee-Lite, "Groove Is In the Heart" appeared on the band's first studio album. If the video's vintage aesthetic intrigues you, Dangerous Minds pilled together a bunch of Deee-Lite concert footage from New York City concert halls in the '80s. Groovy. 
3. Sisqó, "Thong Song"
The unforgettable R&B jam from Sisqó surfaced in 1999 as the second single from the artist's debut album, Unleash the Dragon. "Thong Song" skyrocketed to the top of charts after the record dropped in 2000, but Sisqó didn't maintain that momentum.
4. Lou Bega, "Mambo No. 5 (A Little Bit of...)"
"Mambo No. 5" made serious waves in 1999 when German musician Lou Bega made the track his own. The original version was written and recorded by Cuban-Mexican artist Dámaso Pérez Prado, according to Song Facts. "Mambo makes you happy," Bega said on VH1's 100 Greatest One-Hit Wonders list, according to Song Facts. "Latin music makes you happy, it's sexual, it's erotic, energetic, I think that's the point." 
5. Baha Men, "Who Let the Dogs Out"
Bahamian outfit Baha Men released this jam as a single in 2000, though it was originally written by Anslem Douglas for the 1998 Trinidad and Tobago Carnival. 
Dyson Knight of the Baha Men told Vice in January that their manager demanded the group cover the song after hearing a version playing in Europe. "He called Isaiah [Taylor, another group member] and told him it was an absolute must that Baha Men record that song, because they had the vibe to make it a huge hit," Knight said. "Isaiah heard the song and said there was 'no way in hell we're recording that song.'"
6. Gotye (feat. Kimbra), "Somebody That I Used to Know"
This earworm of a song features Belgian-Australian singer-songwriter Gotye and New Zealand vocalist and guitarist Kimbra. The song appeared on Making Mirrors, Gotye's third studio album, in 2011. The track didn't surface in the United States until the following year, when it was nominated for and won record of the year, best alternative album and best pop/group performance at the 55th Grammy Awards. 
7. Marcy Playground, "Sex and Candy"
"Sex and Candy" was the lead single off Marcy Playground's debut, self-titled album, released in 1997. According to Song Facts, this track only took lead singer John Wozniak an hour to compose. That's a lot of staying power for a short amount of work. 
8. Blu Cantrell, "Hit 'Em Up Style (Oops!)"
American R&B singer Blu Cantrell released this track as the single to her debut album So Blu, in 2001. Cantrell followed up with two records, Bittersweet in 2003 and I Am Blu in 2013, but neither recaptured the stardom of this runaway hit. 
9. Carl Douglas, "Kung Fu Fighting"
Released as a single in 1974, "Kung Fu Fighting" appeared on Carl Douglas' album Kung Fu Fighting and Other Great Love Songs, which reached the No. 1 position on Billboard's R&B chart and peaked at 37 on The Billboard 200.