This Guy Got Caught on Video Punching a Blind Kid — Until a Bystander Stepped Up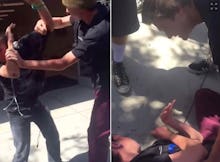 Noah Sparn, a student in California got more than he bargained for Wednesday when was caught on camera punching a visually impaired classmate at school. Video recorded by a bystander shows the Huntington Beach High School student repeatedly punching the teenager, Austin, in the head. 
The incident, however, takes an unexpected turn for Sparn when a third student, Cody, appears from behind and ends the altercation with a single punch. Knockout. 
"You trying to jump a fucking blind kid, bro?" Cody said as lay bleeding on the floor. "What the fuck is your problem?"
Eventually, a number of other students pick Sparn up and helped him off camera, but not before Cody issues a stern warning: "I swear to God, if you fuck with this kid again, I will fuck you up." 
The video was originally uploaded to YouTube earlier this week, where it quickly went viral before it was removed by the video-streaming website. According to the New York Daily News, most commenters cheered the anonymous hero. 
"This hero is what I imagine Captain America was like in high school!" said one. "That bully deserved everything he got and more," another comment said, WPIX reported. "Wow can't believe how disgusting some people act. It's good too see that there is still people who would help those in need." 
And of course, this being the Internet, the video can never really be deleted — numerous copies are already making the rounds, including several more re-uploaded to YouTube.
For his part, Sparn shot back on Twitter saying that he was under attack by Austin and acting in self-defense.
Police saw the event differently, charging Sparn with misdemeanor battery before releasing him into his parents' custody, NBC News reported. Cody is not expected to face charges. 
In a statement, Huntington High School said they were investigating the incident. 
"Huntington Beach High School firmly believes that all students are afforded an opportunity to learn in a safe and secure environment. Because of this, safety is the highest priority," the school said in a statement, the Daily News reported. "Huntington Beach High School has a very strong anti-bullying code of conduct and will not condone this type of behavior from any student."