Why It's Totally Cool — and Smart — to Give Up on Trends and Just Shop For Yourself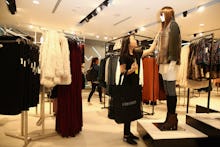 "It's pretty easy to persuade yourself into buying things."
If our stuffed closets can teach us anything, that might be it. As a 26-year-old named Heather put it to Mic, you can convince yourself to buy items to bring short-term happiness, particularly when long-term items (a home, a car) seem out of reach. We fill up our closets with cheap trendy items, then don't wear about 80% of them, the Wall Street Journal reported.
But for some of us, something starts happening the older we get into our 20s and 30s, something our teenaged selves could never have imagined. Chasing trends just doesn't seem so important anymore. 
Several 20- and 30-something women told Mic they're reaching a point where they're no longer interested in closely following fashion — even as cheap "fast fashion" grows (hello, Forever 21), social media spits out new trends by the minute and one-click online shopping makes filling your closet easier than ever.
The boost we get from knowing we're on-trend starts to disappear as we get older and our priorities shift. Encouraged by the latest Marie Kondo-inspired minimalism and the coolness of "uniform dressing," and like French women before them, there are 20- and 30-something women following a different "trend": ignoring what's cool and wearing whatever works best for them.
Here's why. 
Let's face it, plenty of fashion trends work better for our 16-year-old selves.
"I'm 28. I follow age-appropriate trends," Facebook user Jackie Su Fong Martinez told Mic. "A lot of teeny-bopper stuff is super cute, and I would have loved it 10 years ago, but not now."
In fact, seeing what teens are wearing now is like holding a mirror up to our pasts. We might have loved chokers and jelly shoes the first time round, but we don't need to do them again.  
We need things we can actually wear to work.
Work can be a real trend-killer, whether we're working in big-time corporate environments or just need to stay boss-ready throughout the day. That means laced bodysuits and silk slips are off the menu.
"By the time you're 50, you realize that most trends date quickly and are unsuitable for anyone over age 25 or who wants a job," Facebook user Laura Louzader told Mic.
"I have my own gothic style that is now more classic than trendy," said Facebook user Lily Graves. "And careers tend to force you to rethink trends and fashion to work a certain way, especially on specific body types."
Fashion bloggers are cool, but those outfits don't always reflect reality.
We can't necessarily emulate blog style without the freebies, Fashion Week access and flattering lighting that keep the trendiest bloggers looking runway fresh.
"I feel like with the popularity of fashion vloggers and bloggers, I can see why people would look up to them, because they're attractive, marketable and yet are still relatable," 23-year-old Toronto journalist Samantha Lui told Mic. "But I don't think a lot of people realize that their images are carefully crafted."
"Many of the bloggers I frequented only started to wear designer clothing or clothes that were just way out of my price range," Lui said. "I like to follow people who can budget themselves but still be stylish in their own ways."
There's no reason to wear anything that make us feel less than great in our bodies.
Plenty of trends look great on models and certain bloggers but leave the rest of us tugging on hemlines and feeling self-conscious, which is why plenty of women are saying, "No," to trends like culottes or crop tops.
"I get most of my fashion ideas from particular fashion bloggers that look like me and street style blogs, which help me come up with ideas that flatter my particular body type as well as keep me from looking the same as everyone else," said Julia, 24.
"I stopped renewing my fashion mag subscriptions a few years back," Facebook user Rebecca Lynn Allen said. "Since, I've focused on what makes me feel attractive and comfortable. Occasionally, I stumble into trendy pieces that I like, but I haven't kept up with things like I used to."
Skipping fads can mean saving shit tons of money.
Facebook user Robin Julia Tauber, 38, told Mic she finds women's clothes overpriced and poorly made, meaning she skips what's in vogue to shop on the other side of the store. "The shirts in the men's section are often 100% cotton, in the $10 range and have funny sayings or cool patterns," she said.
She's not the only one switching her shopping habits and saving cash as a result. 
"I love style and very much have my own: I shop at thrift stores all the time and love finding quality clothing at terrific prices," Facebook user Idzie Desmarais told Mic. 
And Shayana Stéphanie said she sometimes avoids stores altogether, preferring DIY. "I even take apart old clothes and make them into new items," she wrote on Facebook. "Recently, I made a halter midriff out of an old Indian skirt. I get comments about how awesome it is each time I wear it."
Getting dressed is easy when our closets are filled with things we really love.
With jobs, dating and friends sucking up so much of our energy, a curated closet can spare us another headache.
"I never have any money these days, so regular clothes shopping and keeping up to date with what's in fashion has fallen off the radar," Nicola Prentis, 30, told Mic. "I just buy a couple of things that I know will go with what's already in my wardrobe."
"I've noticed my wardrobe becoming more selective (I will only have clothes that I have room for, no more clothes piles on the floor!), and the color palate has narrowed, mostly greys and blacks and blues," Facebook user Bridgette Steele said. "I don't waste time with cuts that just will never work despite how cute they are on the hanger."
Jo, a 33-year-old accountant, told Mic she has gotten a bit lazier over the years, preferring to stick to things she knew she could throw on without thinking. "I've learnt what works for me, and I know what I like. I don't follow trends at all now," she said.
Really, we just want to wear clothes that make us happy. 
"I've never cared about being too much on-trend, but if I see something cute that's coming into style, I'll definitely try to add it to my closet," Facebook user King-Dowls Helene, 20, told Mic. "But only if I actually like it, not for the simple fact that it's a trend."
And as we get older, we're increasingly aware that feeling good is the most important factor in looking good. 
That's why we love the sentiment of Facebook user Rebecca Hoptowit: "I would like to be like the lady with aged clothing and a smile of contentment on my face ... being retired and enjoying my gardening. That's my goal: that look of contentment, regardless of my clothing."