"Writing's On the Wall" Lyrics and Streaming Options for Sam Smith's 'Spectre' Theme Song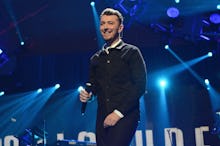 The day has finally come, and the writing is on the wall. Friday morning, Sam Smith released his new single, titled "Writing's On the Wall," which also happens to be the theme song for the upcoming James Bond film, Spectre.
The song will appear on the soundtrack for Spectre, in theaters Nov. 6, and was co-written by Smith and songwriter Jimmy Napes. It holds true to the ballads that catapulted Smith into international stardom last year. 
The song is available to stream on Apple Music or Spotify, and for purchase in the iTunes store. The lyrics speak to a powerful love connection worth risking everything for:
How do I live? How do I breathe? When you're not here I'm suffocating/ I want to feel love, run through my blood, tell me is this where I give it all up?/ For you I have to risk it all, cause the writing's on the wall/ A million shards of glass that haunt me from my past/ As the stars begin to gather and the light begins to fade, when all hope begins to shatter/ Know that I won't be afraid, If I risk it all, could you break my fall?
According to the BBC, Smith describes "Writing's On the Wall" as a "classic Bond song" featuring a full orchestra and powerful vocals. The artist shared his excitement for the release with Twitter on Friday morning: