Janet Jackson and Missy Elliott Just Dropped a New Song "BURNITUP!" and It's Absolute Fire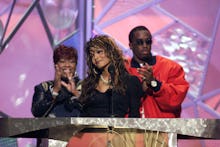 Janet Jackson knows how to turn up the heat. Thursday night, a week and a day away from her first solo release, Unbreakable, in seven years, Jackson dropped a single guaranteed to get the hype train moving. 
"BURNITUP!" features a long-absent hitmaker whose very name can send any club into hysterics: the legendary Missy Elliott. Their collaboration is absolute fire in every sense of the word.
The Elliott-assisted track is the second single Jackson has shared off Unbreakable, following "No Sleeep," released in June. Jackson first teased "BURNITUP!" at the first stop of her Unbreakable tour in August, but all the concert footage got stripped from the Web faster than most fans could reach the play button. On Thursday, BBC Radio 1 shared the full record, with DJ Mista Jam playing the song in full twice back to back.
The song's beat has a no-nonsense drive to it and the lyrics sport the "Hey Mr. DJ" affectations that were all the rage in the early '00s. "When the DJ play this we gon' dance like no one's watching" Jackson sings. "Just give me that fire, I'ma show you how to burn it up." It's a classic throwback. Nothing about the song attempts to reinvent the club banger, but it also proves that Jackson doesn't need to. She and Elliott wrote the rules for how a dance track should hit over their long, storied careers. Until fans' heads stop bobbing, DJs can just hit repeat on those sounds that always slay.
h/t Billboard