iPhone 6s Release Date: Specs, Pricing and How to Get a New iPhone 6s This Weekend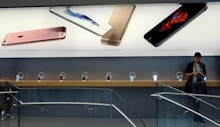 In case you haven't been following the thrilling saga of the iPhone 6s release, it's the big day. Apple's latest model hits shelves Friday and the revamped device boasts more tweaks than meet the eye.
Shoppers courting the iPhone 6s or iPhone 6s Plus can choose from gold, silver, space gray and rose gold. The iPhone 6s model starts at $649 (or monthly payments of $32.45) and the iPhone 6s Plus goes for $749 (or monthly installments of $37.45), according to Apple. 
Under contract, an iPhone 6s goes for $199 for the 16 gigabyte version, $299 for the 64 gigabyte and $399 for the 128 gigabyte, ABC reports. For an iPhone 6s Plus, prices under contract start at $299, $399 and $499 for the 16 gigabyte, 64 gigabyte and 128 gigabyte models, respectively. 
Perhaps the most notable addition to the 6s is 3D Touch, a depth perception feature that allows the phone to sense how deeply a user presses on the screen. 
The devices are also equipped with a 12-megapixel camera and 4K video recording. Powered by proprietary hardware dubbed the A9 chip, Apple's new devices reportedly boast faster performance better battery life.
So how can you get your hands on a device? Phones are available in Apple locations in the United States, and at select carrier locations. However, that excludes Alaska, Delaware, Montana, New Hampshire and Oregon — states with no sales tax. Phones are available only by reservation in those states, according to Apple. 
Apple suggests arriving early to retail locations, as the highly sought devices are likely to move fast. Apple fans can also order the phones online, which may spare users the mayhem of long lines at retail stores. However, even that option has a catch — the devices are sold out online until early October, the Verge reports. 
Here's what Apple mayhem looks like early Friday: 
Whatever your method, the 6s is one of the most coveted devices of the year, so getting your hands on Apple's latest device could take both time and patience. 
"Customer response to the iPhone 6s and iPhone 6s Plus has been incredibly positive, we can't wait to get our most advanced iPhones ever into customers' hands starting this Friday," Apple's Philip Schiller said in a press release. "iOS 9 is also off to an amazing start, on pace to be downloaded by more users than any other software release in Apple's history."