'Hamilton' Lyrics: Words to Every Song From Broadway's Hit Musical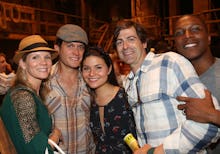 Lin-Manuel Miranda, who not only created and stars in the Broadway hit musical Hamilton but also wrote the music for it, just released the official lyrics to every song from the show.
Hamilton, the story of the United States' Founding Fathers inspired by the best-selling biography Alexander Hamilton, written by Ron Chernow, has become a must-see show this season, and the soundtrack definitely has something to do with it. 
Miranda grew up on both hip-hop and show tunes, the New York Times reports. Although the two rarely overlap, his belief that both genres strongly emphasize storytelling inspired Hamilton's eclectic soundtrack. 
Hamilton star Daveed Deegs told Mic in August that the show's rap lyrics are what initially drew him to the script. "I was mostly impressed by how much the raps get up," he said. "Like, out of any context of any musical theater, there was some really impressive rapping happening in the piece. I was hooked from that. I was just like, 'What do you need me to learn? Do I need to learn how to sing? I'll learn how to sing for you.'"
Watch an interview with Miranda here: 
And a clip from the show itself: