The Rose Gold iPhone 6s Has Finally Made the iPhone Fashion Accessory It Was Meant to Be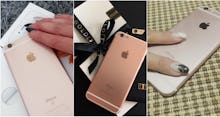 If you somehow missed the fact that it's iPhone launch day, with the release of the iPhone 6s and 6s Plus, your Instagram feed will probably offer a friendly reminder. #iPhone6s is trending, and plenty of the tagged photos are from the proud owners of the new rosy pink iPhone.
The rose gold version of the iPhone 6s has quickly become a covetable accessory that Instagram users are snapping photos of (with their lame, non-Instagram-worthy phones, we imagine). While plenty of people are lining up outside stores to get their iPhones today, preorders for the rose gold version are driving up sales. Between 30% and 40% of all sales for the new 6s are due to preorders for the rose gold, analyst Ming-Chi Kuo of KGI Securities, an online financial services platform, told Apple Insider. 
Why? As Verge tech reporter Micah Singleton wrote in an article entitled "I only bought the iPhone 6S because it's available in rose gold," the phone is simply "majestic":
Rose gold is having a moment. It's the contrarian, going against the status quo of yellow gold. Both the iPhone and yellow gold — and now the yellow gold iPhone — are so common that it was time for something to spice things up. Rose gold is spice, with a hint of copper, and a heavy dose of luxury thrown in for good measure.
Rose gold is luxurious, it's understated, it's pretty and it's trendy. In short, it's finally made the iPhone into the fashion accessory it was always meant to be — and in doing so, it made it perfect Instagram porn. (It helps that this version's boxes are also super pretty.)
Just take a look.
The pink iPhone is now perfect for all those table shots.
It's perfect for showing off a manicure.
It even matches its own box beautifully.
When you've got a shiny new phone, it makes sense that you're also in need of a good manicure, right? The Instagram user minji_jen captioned her new photo: "iPhone 6S. Rose gold. Time to redo my nails. They don't match. ????????"