House Speaker John Boehner Announces He Will Resign From Congress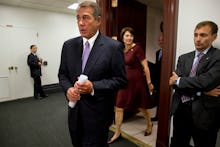 House Speaker John Boehner, the most powerful Republican in Congress, will resign his seat at the end of October, aides confirmed Friday morning. Besieged by the more conservative members in his caucus, Boehner's announcement arrives less than a week before a potential government shutdown.
Boehner's final act as speaker, a role he ascended to in 2011 after tea party Republicans keyed a GOP takeover of the lower chamber, will be to push through a spending bill likely to include new funding for Planned Parenthood. Hardline anti-abortion Republicans have said they will refuse to back any budget that renews hundreds of millions of dollars in federal aid to the women's health care provider.
"The speaker believes putting members through a prolonged leadership turmoil would do irreparable damage to the institution," an aide said in an emailed statement earlier Friday. In late July, one GOP congressman filed a "motion to vacate the chair," which, though unsuccessful in removing Boehner, represented a rare and public rebuke.
The decision comes a year after Boehner lost his top deputy, former Majority Leader Eric Cantor (Va.), to a primary challenge. Only Thursday, the speaker hosted Pope Francis in his congressional office and appeared, teary-eyed, by his side at a number of events on Capitol Hill, including a historic address to a joint meeting of Congress.