Life Is Beautiful 2015 Live Stream: Here's How to Watch Las Vegas Festival Online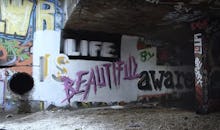 Life Is Beautiful 2015 is the only event of the year where that brings together Stevie Wonder, Snoop Dogg, Kygo, gourmet food, street art and life lessons from entrepreneurs and innovators in one place. The festival kicks off Friday in downtown Las Vegas and ends early Monday morning. 
The three-day event, founded in 2013, is "an inspirational music, food, art and learning festival" that spreads over 18 city blocks and features four stages that host more than 70 musical acts, according to the event's website. 
Vegas has been gearing up for the festival, and the large crowds that come with it. Some street closures for the event began last week, the Las Vegas Review Journal reports. People hoping to attend can still purchase tickets for $115 a day through the festival's website.
If you can't make it to Las Vegas this weekend, no worries. There's a live stream of the festival online (unfortunately, there's no live stream for the food). 
Here's a recap of Life Is Beautiful from HypeBeast: