Global Citizen Festival 2015 Live Stream: How to Watch Concert Live Online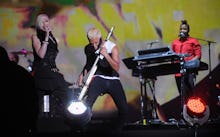 This year's Global Citizen Festival kicks off in Central Park Saturday and will feature performances from Beyoncé, Pearl Jam, Ed Sheeran and Coldplay alongside equally-famous audience members first lady Michelle Obama and Vice President Joe Biden.
The concert is free, however attendance is on a first-come basis, so get there early — organizers expect as many as 60,000 people to show up, PIX11 reports. For those not attending the live show, there are some ways to watch the concert online this year. The Global Citizen Festival will live-stream on YouTube, as well as on the MSNBC website. 
The event, curated by Coldplay frontman Chris Martin and hosted by Late Show host Stephen Colbert, is in its fourth year and is expected to bring up some major issues from equality to global hunger and the environment. The concert is a way for the music industry to bring awareness to those issues as well as reward fans with free tickets to an exclusive performance from some of the biggest stars in the industry.
Last year's performers included Jay Z, No Doubt and Carrie Underwood. 
The concert begins on Saturday at 4 p.m. EDT at Central Park's Great Lawn in New York City. Watch the live stream below: