Instagram Tips: How to Grow Followers and Up Your Social Media Game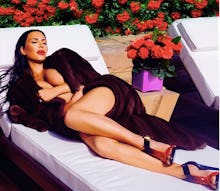 "Be consistent and authentic." Kim Kardashian gave this sound advice about social media to onlookers at the launch of royal reality TV family's four new apps released in September. As fans clutched their copies of Selfish and Instagrammed snapshots, her sisters nodded in approval.
Khloe Kardashian added, "Whatever you post is going to last for a long time, so make sure you are going to stand by everything you're posting, because your brand is a reflection of yourself," Fortune reports.
In 2015, a following on social media is a hot commodity. Not only does having an audience at your fingertips give you the chance to make some serious cash, but it also allows a user to advocate for the social issues that matter most to them. 
Instagram, which boasts over 400 million users and is one of the most popular social networks, serves as the perfect place for your star to rise. However, with 40 billion pictures on the the photo-sharing app, a user needs ways to attract the attention of social media users that will separate themselves from the noise. 
Here are some tips for growing your Instagram footprint.
1. Double-tap your way to fame: By liking pictures from all over the world, you're notifying users of your page's existence. Sending out random likes will attract new fans and followers from around the world. 
"For every 100 likes I did on random photos of other users (whom I didn't follow), I generated 21.7 likes on my photos and 6.1 more followers. I did not have to follow people back for this to work," Neil Patel, a Seattle-based entrepreneur who goes by the username Quicksprout, wrote on his website. Patel boasts more than 30,000 followers, Forbes reports. 
"Because I was liking hundreds of photos a day from random accounts that I didn't follow, 43.26% of all my likes and 31% of all comments on my photos came from people who weren't my followers," he wrote. Patel's data shows that love on the 'Gram comes full circle, and sending out likes is a simple way to get more eyes on your page. 
2. Hashtag-hack your posts: According to the Fortune 500 Instagram report, an average of 55 million photos are shared on Instagram daily as users hand out 1.2 billion likes each day. In order to get a post to be seen by the masses, it needs to have either relevant hashtags within the caption, or a list of commonly used terms in Instagram's search bar. 
That means if you're uploading a post from an event, use the hashtag provided from its sponsors for others to see your photo, or another related word or phrase that's trending at the time. If you're looking to have any post noticed by others, consider creating a second caption underneath your first with a list of hashtags: #love, #instagood, #me, #follow, #followme and #instadaily are among the top 25 most popular hashtags on Instagram, according to PostPlanner. After gaining some new followers, simply delete the second caption to maintain a clean aesthetic on your page.
3. Take better selfies: We can't all take "célfies" like the Kardashians and Jenners, of course, but there are a number of proven ways to get more likes and, in turn, new followers with small adjustments to your self-portraits. The Huffington Post reports on a report about likes on selfies from self-titled "social media scientist" Dan Zarrella. 
"I analyzed the dominant colors in the images and found that cooler blues and greens were correlated with more likes than warmer reds, yellows, oranges and pinks," Zarrella wrote. According to the data Zarrella reviewed in 2014, using the "willow" filter, or not using one at all, are surefire ways to get the most likes on a photo. 
4. Promote yourself everywhere. If you're already an active user on other social networks like Facebook, Twitter, Tumblr or Snapchat, you already have a built-in audience waiting for you. Instagram offers a feature to connect Facebook, Tumblr, Twitter and Swarm accounts to profiles, which allows users to share the content they're uploading to the photo-sharing app with numerous networks. The more your network is aware of your profile's content, the more likely they will choose to follow you. 
5. Post today. Post tomorrow. Post often. Patel writes, "People will not only comment on your photo if you comment on theirs, but they are 401% more likely to follow you in this case." You can't expect users to follow an account that hasn't been active in 45 weeks, just as you likely won't attract new followers without showing some love yourself. 
Whether it's uploading a morning selfie while on your way to work (#IWokeUpLikeThis) or showing your view from an exciting sports game, people want to see what the people they follow are up to. If you happen to be having a bad hair day or don't have any inclination of leaving the house for the weekend, you can still remain active on Instagram by liking other users' photos or even commenting on their posts.