U2 New Album 2016: Everything We Know About Release Date for Next Studio Record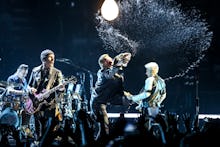 Irish rock outfit U2 has an album on the horizon that's expected to surface early next year. The upcoming record, Songs Of Experience, is the group's 14th studio album, and the band has allegedly already done a lot of the leg work ahead of the record's release. 
"We're going to get this album out next year," lead singer Bono told the Irish Times. "Unusually for us, a lot of the songs are done already."
The album follows 2014's Songs of Innocents, the record famous for its uninvited appearance on 500 million iTunes accounts. Since that awkward fumble, the band has been on a world tour to support their previous record, Digital Trends reports. In the Irish Times interview, Bono gives us a rundown of what to expect from a handful of tracks on the next album. 
"On this one we were going after a broken cassette recorder type of sound," Bono said. "This has got a really crunchy beat ... You have to hear Edge's guitar work on this ... Just wait until you hear the drum break on this one."
The Irish megastars threw fans another bone via Twitter earlier this month when they tweeted out exclusive footage of a Songs Of Innocence recording session.
While fans wait for more on what U2 plans to add to its already prolific canon, checkout the band's tour dates below and brace for a less startling album drop.