16-Year-Old Olivia Hallisey Won the Google Science Fair by Fighting Ebola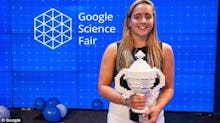 Olivia Hallisey is not an ordinary 16-year-old.
The Greenwich (Connecticut) High School junior took first prize in the Google Science fair Monday after creating a cheap method to test for Ebola. The deadly virus left thousands in Africa dead after an outbreak that started in December 2013.
The prize, and its accompanying $50,000, were awarded at Google's headquarters in Mountain View, California. Hallisey accepted the honor in the presence of 22 other finalists.    
"Nothing exists in isolation," said Hallisey, SFGate reports. "What affects one country affects everyone. We have to work together to find answers to the enormous challenges that threaten global health, our environment and our world."
Hallisey's method requires patients to put a sample of their saliva onto a specialized testing card. Components on the card, called reagents, react if Ebola antigens are present. Present tests for the virus can take up to 12 hours and cost $1,000. Hallisey's method, by contrast, can be wrapped up in just 30 minutes for about $25, Greenwich Time reports.  
Perhaps most important of all, the test can detect the virus in patients not experiencing symptoms and who are not infectious, potentially allowing public health workers to quarantine patients before they become a threat to public health.
Mic reached out to Hallisey, as well as Greenwich High headmaster Chris Winters, neither of whom were available for comment. Winters, however, was effusive in his praise on his Twitter account.
Ebola outbreaks have occurred sporadically in central and West Africa since the disease was first identified near the Congo's Ebola River in 1976. In the absence of a vaccine, quarantine efforts have historically served as the first line of defense in affected areas. Traditional methods proved insufficient, however, during the disease's deadliest outbreak, which killed more than 11,000 people in 2014, according to the Centers for Disease Control and Prevention. 
Hallisey's method won't end the scourge — only a vaccine, like this one currently under development, can do that — but it will make catastrophes like the 2014 epidemic considerably less likely in the future.