Trevor Noah's 'Daily Show' Is Not Jon Stewart's, and It's Not Trying to Be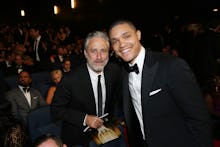 For a man about to make one of the biggest splashes in late night in years, Trevor Noah was remarkably calm Friday. He and the Daily Show team were collected in the morning to answer reporters' questions and show off the updated set for the first time. He handled each question with not just ease, cracking a joke here and there, but with intelligence. 
The 31-year-old, relatively unknown until this year, conducted himself like an old pro. That's a good thing too. In order to make his version of The Daily Show work, he'll need to impress the existing audience that loved Jon Stewart while simultaneously setting himself as something different so the audience forgets about the old Daily Show. 
No pressure.
For his part, Noah seems up to the challenge. The question is whether viewers will be up for him — a more moderate, quiet, global-minded host whose comedic style shares little in common with his predecessor's.
Upon first impression, a lot about The Daily Show With Trevor Noah seems like The Daily Show With Jon Stewart. The team of executive producers is the same that served on Stewart's show. The format, give or take an extra musical guest or two, will be roughly the same. Even the shiny new set looks a lot like the old set.
What Noah's show lacks in overt branding changes, it makes up for in its host. "I think what you're going to see is a big difference in the style, as opposed to the changing of the actual structure of the show," he told reporters Friday morning.
The biggest surprise, it seems, is that the South African comedian's self-described progressivism won't translate into a liberal-bent show. Answering reporters' questions Friday, Noah said he liked what Rand Paul said in a recent Republican presidential debate, and indicated he wants to have several conservative candidates on as guests. 
"Let's say gay rights, equality of marriage — that's a progressive thing for me. In an American context, that skews liberal," Noah said. "But there's certain issues from, say, Rand Paul, where I go, 'Yeah, I like that, let's move forward in that regard.'"
Over 16 years, half of which were Bush administration years, Stewart developed a distinctly liberal tone on The Daily Show. Fox News was his favorite piñata to whack. Even after Barack Obama became the country's 44th president, Stewart remained far more fond of taking down conservatives — a good thing too since that drew him a loyal audience.
Conceivably, that same audience will be returning for Noah's show. A viewer or two may be turned off by his previous taste-questionable tweets, but that controversy has mostly subsided. Chances are Stewart's fans will be there for Noah's first show Monday night, but the question remains: Will they like what they see?
Surprisingly, they actually might. There's a lot to appreciate about Noah's approach to his show. His guest selection is thoughtful and focuses on diversity. For his first week, Noah will have comedian Kevin Hart, Bumble CEO Whitney Wolfe, Republican presidential candidate Chris Christie and singer Ryan Adams on the show.
"Every single guest that's in there is there for a reason," he said. Hart was chosen both for being a comedian and for having "broken many boundaries of color." Wolfe, a cofounder of Tinder, similarly, was chosen for "her story, the challenges she came up against and how she had to approach an all-male world and figure out her place in it."
True, that roster doesn't present a much better gender ratio for guests than Stewart's show. Yet Noah is clearly thinking about his guest selection in a deep way. It's a good first step, hopefully leading to greater diversity.
Even Noah's lack of partisanship, seemingly a negative, has its benefits. It will allow him to be smarter in his takedown target selection. "I get to forge my own relationships. I get to discover the person that I will grow to loathe and hate," Noah said. "If you go, 'I have a target,' then you have blinders on. Sometimes, you're so focused on that target that you don't get to what you should be getting to, which is the truth."
For better or worse, Noah must rebrand. No one can be Stewart, and fans would have quickly clocked any attempt to try as inauthentic and rejected. That Noah's small changes — a moderate political path, a greater focus on diversity — will definitively set him apart. If the audience rejects him, he can't be faulted for not trying something new.
It's going to take him time to make it work, though. As Stephen Colbert proved this month, debuts in late night are incredibly difficult. Noah's first show will probably be characterized by awkward guest banter, missed punch lines and a touch of desperation. Given time, however, he may be able to do the impossible: make Daily Show viewers forget about Stewart.
The Daily Show with Trevor Noah debuts Monday night at 11 p.m. ET. Though the show normally airs on Comedy Central, Noah's premiere will be simulcast on BET, CMT, MTV, Nickelodeon, Spike, TV Land and VH1.