Chvrches' 'Every Open Eye' Proves How Lost Pop Music Would Be Without Them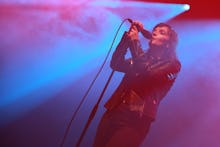 Three years ago, Chvrches began a renaissance in pop. Led by the exuberant Lauren Mayberry, the Glasgow-based trio dug up a forgotten sound — '80s synth-pop — and reanimated it with Da Vinci-esque brilliance. They crafted one of the most beloved debuts of this millennium, The Bones of What You Believe, which turned them into instant heroes on the indie scene and favorites on the summer festival circuit.
The thirst for another round of their triumphant, airy pop has been tremendous, and Friday, they returned to the fray with sophomore effort Every Open Eye. Somehow it's managed to fulfill every expectation critics set for it.
"We will take the best parts of ourselves and make them gold!" Chvrches lead singer Lauren Mayberry belts as she sings one of the album's standout tracks, "Make Them Gold." The words are a perfect summation of what the band has crafted. They've taken their exuberant synth-driven pop and polished it into an even more brilliant pop creation. Every Open Eye's 11 tracks feel self-aware, mission-driven and defiantly feminist, all executed with a clarity of vision that every pop artist should aspire to achieve.
Leading the synth-pop revolution: Chvrches pick up their lightning-bright, hooks-for-days songwriting right where they left it on their previous The Bones of What You Believe. If anything, it's bolder and more accessible than ever. However, this time around they're presenting it as a much busier field. The sound Pitchfork once praised as "some of the more forward-thinking sonics in electronic music right now," has proved trendy enough to spread into almost every major pop release of the past two years.
In their review of Every Open Eye, Billboard points out that Sia, Icona Pop, Carly Rae Jepsen and Taylor Swift's recent works have all since picked up on Chvrches' trailblazing. In contrast to the massive production teams and budgets those records enjoy, however, Chvrches wrote, recorded and produced their entire debut themselves, making it likely the only record cracking UK's Top 10 in 2013 able to boast that.
Chvrches pulled a similar feat on Every Open Eye. According to an interview with Pitchfork, they skipped on expensive studio fees again, aiming to have the new album "20% different, bigger, better," Chvrches' Iain Cook said. The band took a page out of the gospel of Quincy Jones, the producer behind Michael Jackson's Thriller, using fewer tracks to put more weight on each melodic line.
The songwriting strategy is clear on the album's first single "Leave a Trace." It relies on the same clipped vocal samples as Chvrches' debut "The Mother We Share," but it's far more sparse and confident in each melody and tone it presents. Mayberry's vocals are crystal clear, and every vocal line seems to have been been thought through for maximum impact. Any one of the album's tracks could be a single. They all hit with Occam's razor-like clarity that pop has sought to capture in all its finest moments.
Every song channels a positivity that's infectious. Mayberry's high, thin voice lends itself to this aim. The joy it relates, however, is sharp, almost brandished in the audience's face as a challenge. "I had somebody say to me once, 'You can't make the kind of music you're making and call yourself a feminist.'" Mayberry said in June. "The door was slammed on them swiftly after that. Nothing gets my hackles up like being told I can't do something."
This defiant tone fits the larger narratives that have followed the band on their explosive rise to indie stardom. "Being a band born on the Internet," Mayberry wrote in a 2013 Guardian article, is "a daily sift through a barrage of sexually explicit abuse."
In facing it down, Mayberry has become a leader in a larger fight against online misogyny. Mayberry has used her Instagram, Twitter, and Facebook to shine a spotlight on the hate she faces. "I am not going anywhere," Mayberry wrote, reacting to a particularly vile online commenter in April. "So bring it on, motherfuckers. Let's see who blinks first."
This same defiant spirit carries into the album. "How about I prove I'm right and raise it overhead?" she sings on "Bury It," before raising her battle cry: "Bury it and rise above, bury it and rise above." Again on "Playing Dead," she defies her listener. "You can tell me to move and I won't go/ You can tell me to try and I won't go." 
None of the album's love songs are aimless. Every Open Eye is pop that refuses to be infantilized or belittled. It's pop with a purpose. Endearing pop songwriting can clothe a progressive social agenda without compromise. Chvrches have been showing the world how to do it for years, and Every Open Eye will likely become and remain the gold standard — that is, until Chvrches releases their next record.
Correction: Sept. 27, 2015