Jessica Zucker Is Changing the Conversation About Miscarriages With These New Cards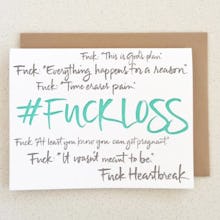 The loss of a pregnancy can bring many emotions like sadness, fear and shame. Though up to 25% of clinically recognized pregnancies will end in miscarriage, according to the American Pregnancy Association, many women report feeling isolated by such loss. 
Yet it's not just the women who feel unprepared, but also the people in their lives who don't know how to express their support. That's where clinical psychologist Jessica Zucker's pregnancy loss cards addressing those who have lost pregnancies come in. 
Zucker's own miscarriage made "an indelible impact on how I feel about my life more broadly," she told Mic in April. Writing about her experience in the New York Times and launching the hashtag #IHadAMiscarriage, which encouraged women to share their experiences with each other, however, "eventually brought me peace of mind," she said. But as helpful as breaking the silence that still surrounds this experience is, she said, plenty of negative attitudes about it are still evident in the culture at large.
"Pregnancy loss, miscarriage, still birth — these things aren't a disease," Zucker told Mic in October. "Talking about miscarriage does not induce miscarriage and talking about pregnancy loss does not create pregnancy loss." While people logically know this, she acknowledged, these beliefs still seem to underly the common choice to disengage with women's grief rather than empathize and connect with them.
Enter the "pregnancy loss cards." Zucker launched a line of cards last week to serve as a concrete way for people to send the message, "I'm here for you. I care for you. I'm making strides towards finding the words to really be here with you through this difficult time," she said.
"I may not always know the right thing to say," one card reads, "But I'm gonna try. I love you like crazy!"
Another card addresses the challenging experiencing of pregnancy after a previous pregnancy loss, while another expresses a cathartic "#FuckLoss."
"My hope is that by being a bit more irreverent and also incredibly loving, these cards speak to the truth of people's experiences," Zucker said. Sending them, she believes, is "a way to be intimate and to actually engage rather than disengage."
Beyond empathy: While sending a card is undoubtedly a caring act within the context of an individual relationship, it also has the potential to shift cultural attitudes. Zucker's goal, she said, is to actually normalize the grief of women who have lost pregnancies.
"Grief knows no timeline, and grief is kind of circuitous and there's not one way to grieve," Zucker said. "Everybody experiences pregnancy loss in very different ways."
She said sending these cards not only acknowledges that pregnancy loss "happens, that it exists, that there's pain," but further allows individuals "to get comfortable with the discomfort that comes along with loss" and "normalize the conversation" about it.
"It would behoove us to do a better job of just kind of honoring what we go through, what women have experienced, and not just focus on positive outcomes," she said. "It's not just about sharing our stories, but being able to connect after loss."
While loss is painful, our denial of loss is what ultimately results in women "feeling so ashamed or self-blaming," Zucker said. Ultimately, we must move toward a society in which individuals are permitted "to be present with the pain of it all," to "just slow it down a little bit and not try to get back to some happy place," Zucker said. If women who experience pregnancy loss — as well as anybody grieving a loss — can do that, she said, "we wouldn't feel so alienated."