Production Begins on Two New TLC Specials Starring the Duggar Sisters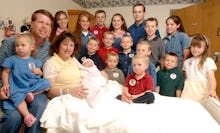 Given the revelation that Josh Duggar, of the family at the center of TLC's popular show 19 Kids and Counting, had molested at least five young girls, including his own sisters, many felt the show's cancellation in July was justified. Yet TLC appears committed to keeping the franchise alive, and recently announced that members of the Duggar family will soon appear on the network once again.
TLC will air two specials featuring members of the Duggar family, one of which will follow Jessa Seewald's preparation for her first child, while the other focuses on Jill Dillard's move to Central America, Nancy Daniels, TLC's executive vice president and general manager, told the Associated Press Thursday.
Just last month, Seewald and Dillard spoke out about their experience with child molestation in an hour-long special called Breaking the Silence. While the family faced criticism for initially defending Josh Duggar's abusive behavior, the special seemed to serve as an opportunity for the sisters, as well as other advocates for and experts on the topic, to raise awareness about the broader problem of child molestation.
"I feel this should be a discussion people are having, even regularly," Seewald says in the special. "I think that it shouldn't be a taboo subject; that we should be bringing awareness to child sexual abuse and talking about this."
Breaking the Silence notably omits Josh Duggar, as will these upcoming specials, the AP reports. If Dillard's recent commentary on the upcoming special is any indication, it seems the traumatic incident will remain a separate matter. 
"We are looking forward to reconnecting with everyone with the new specials on TLC," Dillard wrote in an Instagram post Thursday about the upcoming special. "Many have asked about our mission work and about the challenges of taking our family to a different country, culture and learning a new language."
h/t Jezebel