This New Line of Gender-Fluid Undergarments Wants to Fix a Major Problem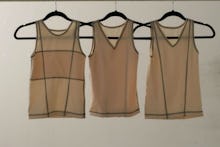 One year ago, artist Peregrine Honig's friend, a trans male in the midst of transitioning, told her about the new least-favorite part of his daily regimen. 
"He was telling me all about his binders, and how uncomfortable they made him," Honig told Mic. "All these public things were happening for transgender people, but then there was this private struggle." 
Honig, who owns the lingerie store Birdies in Kansas City, Missouri, immediately knew what she had to do. 
With the help of a friend's aunt, who had been in the post-plastic surgery and compression garment industry for 30 years, Honig gathered materials needed to successfully produce a line of gender-fluid intimate wear, which she cleverly named All is Fair in Love and Wear. The line recently completed funding on Kickstarter, raising $25,550 from 175 backers.
The brand already has four styles of binders ready to be rolled out, in beige and in black, in addition to "tuckers," "cinchers" and "packers," if funding allows. All products were designed with a focus on addressing specific issues related to the shape, seams and fabrics of other binders. The garments are slated to be sold at Honig's store in Kansas City as well as online. 
Honig honed in on what consumers of these products actually want by reaching out to friends, who introduced her to the many online forums that the transgender community uses to share information, updates and product guidance for people during every stage of their transition. 
"What I learned is that everyone is different," Honig said. "Some people who are transitioning don't want to use these products at all but for people who do, I wanted to make sure the line catered to their needs."
Besides All is Fair, one of the only other intimates line focused on trans shoppers is Chrysalis Lingerie, which was created by a transgender woman for transgender women. Honig's line hopes to produce products for both transgender men and women. 
Regardless of the exact Kickstarter success, Honig has big plans for All is Fair's community. She's already signed the lease for a brick-and-mortar shop and community center (also to be called All is Fair) in Kansas City that will host workshops, events and classes for anyone who's interested, not just trans individuals.
"The goal is to create a safe space for them where they can feel comfortable and receive the guidance they may need and support," she said. "I would love to see the line grow into a community that offers whoever wants to wear these garments exactly what they need." 
At the very least, Honig is out to do some good. This line is just the beginning. 
h/t Refinery29