Bei Bei the Panda: Video and Where National Zoo's New Baby Panda Got Its Name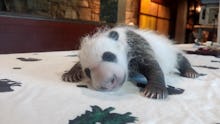 On Friday, the Smithsonian National Zoo announced their one-month-old giant panda cub will be named Bei Bei, pronounced "bay-bay." Bei Bei is seriously bae. 
First lady Michelle Obama and first lady of the People's Republic of China Peng Liyuan selected the name together and revealed it on Friday in honor of Liyuan's first U.S. state visit, according to a press release from the National Zoo. 
Aside from revealing the highly publicized panda cub's name, Obama invited Peng to the National Zoo to celebrate over 40 years of U.S. and China collaboration for giant panda conservation. 
Bei Bei means "precious, treasure" in Mandarin Chinese, which complements Bao Bao, his older sister's name. Obama and Liyuan chose Bei Bei over Ping Ping, which means "peaceful and calm." Both name choices were submitted by National Zoo panda keepers. 
Officials said the cub is roughly 3 pounds, which is 10 times the weight of when it was born on Aug. 22, reports the Washington Post. Bei Bei has been more mobile, using its front legs to scoot around, but has yet to open its eyes, according to the report. A live feed of Bei Bei is streaming on the National Zoo's Panda Cam.