Why John Boehner Is Resigning From Congress After a Tumultuous Reign as Speaker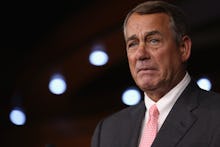 In a press conference Friday afternoon, House Speaker John Boehner dismissed suggestions that the decision to resign his post and leave Congress at the end of October had been driven by an increasingly loud and well-funded conservative rebellion inside his caucus.
"It was never about the vote," he said, referencing threats of a no-confidence challenge to his leadership by fellow Republicans. "There was never any doubt that I could survive the vote, but I don't want my members to have to go through this and certainly don't want the institution to go through this."
But Boehner's position has been unmistakably diminished over the past two years, as he struggled to manage right-wing insurgents in his caucus. The tension has grown as congressional Republicans, despite growing their majority in the House and winning it back from Democrats in the Senate, have failed to block or roll back any of the Obama administration's key initiatives, from health care reform to the Iran nuclear deal.
In an ironic final twist, Boehner, a stalwart opponent of abortion rights, departs amid complaints he has not been forceful enough in his support for efforts to defund health care provider Planned Parenthood. 
The last straw: Boehner, 65, has served in the House as the representative from Ohio's 8th district for nearly 25 years, and became speaker after the tea party wave in 2010 swept House Republicans into power. In his final act as speaker, Boehner is expected to usher through a "clean" spending bill with Democratic support that will include renewed funding for Planned Parenthood. Without its passage, the federal government would likely shut down for the second time in as many years.
At least 28 hardline anti-abortion Republicans have said they will refuse to back any budget deal that directs hundreds of millions of dollars in federal aid to the health care provider, the Hill reported in early September. They are now likely to retrench for another fight under new leadership in December.
Boehner said on Friday that he had initially intended to leave Congress at the end of 2014. But those plans were upended when Boehner's deputy and presumed heir, former Majority Leader Eric Cantor, was unseated by a primary challenger last summer.
But his decision to stay on through 2015 became increasingly untenable. In late July, one GOP congressman filed a "motion to vacate the chair," which, though unsuccessful in removing Boehner, represented a particularly stinging and powerful rebuke of his leadership.
"It has become clear to me that this prolonged leadership turmoil would do irreparable harm to the institution," Boehner said Friday. "So this morning I informed my colleagues I would resign from the speakership and resign from Congress at the end of October."
Boehner, a devout Roman Catholic, shared his decision with the GOP rank-and-file less than a day after he hosted Pope Francis in his congressional office and appeared teary-eyed by his side at a number of events on Capitol Hill, including a historic address to a joint meeting of Congress.
The news came as a surprise to top Democrats. President Barack Obama praised Boehner during a joint press conference with Chinese President Xi Jinping on Friday, calling his Republican rival "a good man," who "has always conducted himself with courtesy and civility with me."
House Minority Leader Nancy Pelosi (D-Calif.) said during her morning briefing that she had reached out Boehner earlier after hearing rumors, but not heard back. Then, "all of a sudden," she said, "the phones just lit up, and that's how we found out."
Why he's leaving: As Boehner spelled out in his statement, an ongoing struggle with the less pragmatic, right-leaning members of his own caucus had weighed heavily on his nerves.
In the short term, he was faced with a lose-lose proposition: Either force through a "clean" bill to fund the government, preserve funding to Planned Parenthood and risk a more serious coup attempt in the coming weeks, or acquiesce to the hardliners and run the federal government headlong into another shutdown.
It's a road he has traveled before.
In a similarly styled bid to gut Obamacare, the GOP led the way in shutting down the government for 16 days in October 2013. As the deadline for increasing the nation's debt limit neared, Boehner eventually stood down and allowed the House to vote on a deal brokered by the White House and Senate Republicans. 
The fraying relationship between the speaker and colleagues never recovered. After the 2014 midterm elections, 25 conservatives broke ranks and cast protest votes, making Boehner's re-election to his leadership post a narrow one.
In the end, Boehner's departure likely guarantees the passage of a short-term continuing resolution, which will keep the government funded for another three months. Given Obama's pledge to veto any legislation to defund Planned Parenthood, Boehner's successor will be confronted with a similar conundrum in December.
What comes next: The Republican Party's base of social conservatives, gathering for the annual Values Voter Summit in Washington, broke into applause and a standing ovation when Florida Sen. Marco Rubio broke the news of Boehner stepping down during a speech early Friday:
A little while later, Sen. Ted Cruz (R-Texas), suggested to the same crowd that Boehner was out "to land a cushy K Street job after joining with the Democrats to implement all of President Obama's priorities."
But even as ideological opponents two-step beside Boehner's political death bed, some in the party are already looking ahead to another round of difficult decisions.
"The next speaker is going to have a very tough job," Rep. Charlie Dent, a moderate Pennsylvania Republican, told the New York Times on Friday. "The fundamental dynamics don't change."
Indeed, the conservatives manning the increasingly powerful House Freedom Caucus, the tea party's main presence on Capitol Hill, will be emboldened by Boehner's demise. Their likely choice to replace him, current Majority Leader Kevin McCarthy, a representative from California, has enjoyed a swift climb up the Republican ranks.
But with this funding fight set to repeat itself in late November, and both parties in the midst of polarizing presidential primary campaigns, McCarthy might well be set up for an equally abrupt fall.