Watch This Man Walk for the First Time Since He Became Paralyzed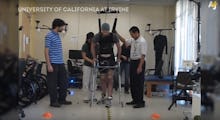 Adam Fritz, who severed his spinal cord in a motorcycle accident, became the first paraplegic person to walk with the help of a new technology that converts thoughts into movement on Wednesday at the University of California, Irvine. 
The technology circumvents the spinal cord by sending electrical signals from the 28-year-old's brain directly to his legs: After not walking for five years, he was able to walk 12 feet with the use of this technology. Electrodes around Fritz's knees activated certain muscles in his legs, after a computer algorithm translated his brain's electric signals into movement, according to Reuters.
Fritz spent 19 weeks training to be able to walk the course, reports ITV. He had the help of a frame to stabilize him and was in part suspended by a harness to partially reduce his weight. Dr. An Do, a coauthor of the study surrounding this technology, explained the weight alleviation was needed as his feet and legs lack sensation.
"It was this odd combination of being ecstatic but also being comfortable," Fritz told ITV. "The first few moments, I was so focused on just walking that I couldn't think of anything else."
While the technology does not currently allow Fritz to attain levels of control comparable to when he was able-bodied, researchers remain optimistic. "[It is feasible] to restore intuitive, brain-controlled walking after a complete spinal cord injury," Zoran Nenadic, a biomedical engineer leading the research for the technology, told Reuters.
Fritz told ITV the experience has personally provided him with hope. "The researchers who were there were almost just as excited as I was. They were almost jumping up and down for me," he added.