Lunar Eclipse Sept. 27: Where and How to Watch the Supermoon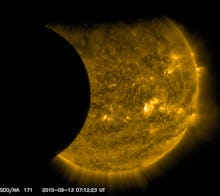 Naturally, there's a ton of hype surrounding this supermoon lunar eclipse, or "blood moon," that's scheduled to take place on Sunday. But how can you catch a glimpse of this supposed sky show?
If you live in North America, South America, Europe, Africa or parts of West Asia, you'll have a chance to watch the 72-minute rare moon event in real life, CNN reports. Of course, the weather will play a large role in whether or not you'll see it. If the forecast in your area is cloudy or rainy on Sunday night, you may be out of luck. 
But if you can't catch this stellar event in person, NASA will be providing a live stream of the lunar eclipse starting at 8 p.m. EDT until at least 11:30 p.m. During the broadcast, if you tweet questions about the event using the hashtag #askNASA, one of the organization's solar physicists, Mitzi Adams, may respond.
A partial eclipse will begin at 8:11 p.m. EDT. A total eclipse will begin at 10:11 p.m. and will be at its peak at 10:47 p.m. The eclipse will conclude at 11:23 p.m., but a partial eclipse should last until 12:27 a.m. on Sept. 28.
When explained without all the scientific jargon, what causes a supermoon lunar eclipse and why scientists and bloggers are calling it a "blood moon" actually makes sense. Sunday night's moon is the harvest moon for fall 2015, or a full moon. When a full moon is at the closest point in its orbit to the Earth, which it also happens to be on Sunday night, it appears 14% larger. This makes it a supermoon. When the moon passes directly behind the Earth into its shadow, it creates a reddish tint, or a lunar eclipse. The nickname "blood moon" obviously comes from the red factor. All of these things are miraculously happening in tandem on Sunday night, making for a supermoon lunar eclipse. 
This stellar event has only happened five times since 1900, and if you miss it this time, you won't get a chance to catch it again until 2033. No pressure.