Pope Francis Came to NYC — Here's What Young Catholics Had to Say About It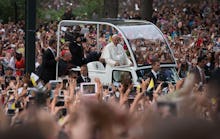 New York City's Central Park hosted 80,000 eager pope-watchers as Pope Francis traveled through the park en route to Madison Square Garden for Mass on Friday. Those who watched caught glimpses of the pope as he waved to onlookers, smiled wide and offered a few signs of the cross as blessings. 
The city held a lottery for tickets to see the pope's Central Park procession. Among those attending were many young Catholics eager to discuss what made them take the day off from school or work to wait in line for six hours — or more — just to see the septuagenarian superpower that is Pope Francis.
Maggie Gavin, 27, was one of the lucky lottery winners. She brought her friend, 27-year-old Adrienne de la Fuente, to the procession so they could spend the day together. Both identify as Catholic. 
Francis brings hope for the church: "I think that he's a historical pope and will make lasting changes on the church," Gavin told Mic. 
"I think that he's going to free the church up from some of its more conservative constraints and make it a more open and welcoming place for people to be, at least that's my hope," Gavin said.
Several young Catholics told Mic that politics seemed a low priority for Pope Francis; many referred to him as "the People's Pope." 
"I liked his joke at the beginning of his U.N. speech where he alluded to Obama being late picking him up," Prerna Bhardwaj, 30, told Mic. 
Prerna does not identify as Catholic but was still happy to see the pope. "He says a lot of very progressive, open-minded things that don't seem affiliated to a religion so much as very spiritual, open, loving conversation which is why so many people love him." 
Lia Cairone, 28, who grew up in the Catholic Church, told Mic, "I think [people] sense that he's sincere and he really cares about the people ... I'm drawn to him, as are all these people, that's why we're waiting for hours. I think it's worth it. I'm really happy to be here."
One Catholic attendee, Kate Essig, said Francis made her proud to be a Catholic again. 
"He is really just living out what I have always found out to be the truth of being a Catholic," Essig, 23, told Mic. "When he became pope, he was all about the desire to reach out to people who are marginalized. I think it became a point of pride for me to be like 'See this is what it means to be Catholic!' and it gives me so much hope and renewed enthusiasm for what I was and still am."
De la Fuente was similarly effusive of Pope Francis' efforts to rebrand the church. "I like that he is definitely not stuck in either the conservative or the liberal mindset," she told Mic.  "He's someone who really tries to bridge the gap and talk about Catholicism that transcends politics."
He's hitting the right political notes. While Francis may transcend politics, that does not mean that he eschews them completely. 
"I'm here because I care a lot about climate change," Cairone. "I'm really excited to see him mobilizing so many people from different backgrounds around the world."  
Many of the young Catholics who spoke to Mic applauded the fact that Francis plays a mediating, advisory role in politics rather than an agenda-driven one. 
"I like that he spoke to Congress and said abortion is an issue but you also have environmental issues," de la Fuente told Mic.  
"I watched the speech with President Obama. I think it's fantastic that he's raising the issue [of climate change]. A lot of people follow him. The religious right have been climate deniers so this has the potential to change the conversations," Cairone said. "I think he's been pretty diplomatic about it. He's not being divisive, he's trying to unify."
The pope is just one heckuva guy. At the center of all this papal fervor is the consensus that Francis just seems like a pretty dope dude. 
Essig knows that it's basically a Catholic rite of passage to see the pope but something about Francis made this opportunity feel different. "Something about this pope feels different and exciting," she said. "It's more personal." 
"I like that he's a human. He's relatable as a human being," Gavin said. 
"Yes, I do think Pope Francis is pretty cool. I was watching a show yesterday and they called him 'Bernie [Sanders] in a white dress,'" Bhardwaj said. 
Cairone felt that his warmth was palpable. "He is so gentle, he is so genuine, I think, that's what people really respect him and why they're drawn to him," she said.