An Openly Gay Man Read in Spanish at the Pope's New York Mass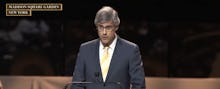 Former Daily Show correspondent Mo Rocca, who came out in 2011, eclipsed many of the other big-name celebrities and politicians in attendance when he delivered the first Bible reading at Pope Francis' Madison Square Garden Mass — in Spanish. Though he spoke for less than two minutes, Rocca's presence reverberated throughout social media.
Pope Francis hails from Argentina and is the first Latin American pope. This week, his first trip to the U.S., also saw Francis canonize Juniper Serra, the first Hispanic American saint. According to Pew Research Center, 34% percent of Catholics in the U.S. identify as Hispanic while 46% of Catholic millennials are Hispanic. 
Rocca, who is of Italian and Colombian descent, read from the book of Isaiah as the pope appeared to intently listen. The CBS Sunday Morning reporter read from Isaiah 9:2:
"The people walking in darkness have seen a great light; on those living in the land of deep darkness a light has dawned." 
People praised Rocca and the choice to do a reading in Spanish via social media as he took to the stage. 
Pope Francis caused a stir in 2013 when he said this about gay people in the church, "If someone is gay and searches for the Lord and has good will, who am I to judge?" Since then, the pope has been named Person of the Year by the Advocate and Time. Though Francis' U.S. visit focused on the strength of families, he has not specifically discussed same-sex marriage. Many LGBT guests, including openly gay Episcopal Bishop Gene Robinson, greeted the pope at a White House reception this week. 
Ahead of the pope's visit, some LGBT Catholics have recorded videos and are sending videos with the hashtag #TellthePope to relay their experiences about being gay and Catholic. 
You can watch Rocca's entire reading here: