Malala Yousafzai Joins Stephen Colbert to Do Card Tricks on 'The Late Show'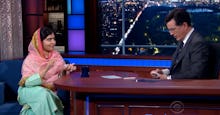 Pakistani civil rights activist Malala Yousafzai joined host Stephen Colbert on the set of The Late Show With Stephen Colbert Friday night for a memorable appearance in which the two discussed her important work, forgiveness and card tricks.
Colbert subjected 18-year-old Yousafzai to the Jedi mind trick equivalent of a card trick, asking her to think of the seven of clubs before pulling that card out of the deck.
She definitely fell for it.
The Nobel Prize winner then impressed Colbert with her own card trick, leading the comedian to joke her next performance would be in Las Vegas.
Colbert also discussed Yousafzai's work promoting educational access for young girls in Pakistan and asked how she could forgive the Taliban gunmen who shot her in the face in 2012, nearly killing her.
"I think of the world as a happy place. And I believe that I should treat others the way I want them to treat me," she responded. "I want everyone to be kind to me, to love me, to take care of me, to forgive me if I do something bad. And that's what I have chosen in my mind: I have forgiven them."
Yousafzai encouraged combatants to lay down their arms and find alternate ways to resolve conflicts.
"I'm hopeful that they will change," she told Colbert. "It's not just them, but many other people who are picking up guns and telling them, 'Put down your guns and try to do things in a peaceful way.'"
Yousafzai spoke to the United Nations earlier Friday, alongside youth representatives from each of the 193 member countries, to encourage world leaders to promise every young person in the world be given access to a quality education.
"World leaders sitting there, look up because the future generation is raising their voice," she said. "... I'm hopeful that we all in the U.N. will be united in the goal of education and peace, and that we will make this world not just a better place, but the best place to live. Education is hope, education is peace."
Watch the clip below: