"Ground Zero Mosque" to Be Replaced With Luxury Condominiums for the Ultra-Wealthy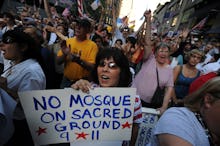 In 2010, some conservatives grew furious at developer Sharif El-Gamal's plans to redevelop two addresses near the former site of the World Trade Center as a 13-story Islamic community space and prayer center.
Years and endless controversy later, Bloomberg reports El-Gamal, chairman and CEO of Soho Properties, is now planning to build a "667-foot (203-meter) condominium tower at lower Manhattan's 45 Park Place" that will include "at least 15 full-floor units of 3,200 to 3,700 square feet (297 to 344 square meters), and average prices higher than $3,000 a square foot."
It didn't take long for some parts of the right-wing blogosphere to declare victory, like anti-Islam activist Pamela Geller, who described the news on her website as a victory against President Barack Obama and the "elites in their increasingly fragile ivory towers." 
El-Gamal's original plans to develop Park51, a 13-story Islamic space, were plagued by controversy from conservatives who believed the planned mosque was an intentional insult to the families and victims of the Sept. 11, 2001, terrorist attacks. Republicans like Newt Gingrich, Sarah Palin and New York's Congressman Peter King came out against the building. In June 2010, protests involving hundreds of people helped seal the plan's demise.
For their part, El-Gamal and his development partners insisted the new building was intended as a message against extremism.
Bloomberg writes that local firm Halstead Property Development Marketing estimates the new units at 13% above market rate for the lavishly priced neighborhood, which is already unaffordable for all but the wealthy. El-Gamal told the site the tower would be a "market-maker" and "a building that's really going to share in a unique moment" — a moment that is perhaps what Bloomberg described as a "a downtown renaissance that has sent home prices up 28% since 2012."
"Every day that we've been waiting, the market has been getting stronger and showing incredible signs of resilience," El-Gamal told Bloomberg. "The appreciation and absorption this market is showing is unprecedented."
The existing buildings already host a temporary version of El-Gamal's planned community center, which he hoped to rebuild into the much-larger Islamic center. El-Gamal told the New York Times in 2014 that he wanted to build a three-story museum about "the faith of Islam and its arts and culture" instead of the larger 13-story building that was originally planned.
The museum, which includes a prayer space, will still be built adjacent to the condominiums.
h/t Bloomberg