Ariana Grande's Newest Song Is Like You've Never Heard Her Before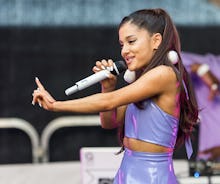 You've heard Ariana Grande, but have you heard her sing opera?
The 22-year-old singer teamed up with 57-year-old blind operatic legend Andrea Bocelli, one of the most respected classical tenors in the world, for a track on his upcoming album "Cinema." In the album, Bocelli takes on familiar tracks with famous cinematic origins, featuring songs from movies like The Godfather and Breakfast at Tiffany's.
The result is a track with breathtaking vocals. Grande and Bocelli's duet proves yet again that her Nickelodeon origin story is no longer a justifiable excuse to dismiss the vocalist's work.
According to Billboard, the track is a "medley" of songs from famous composer Ennio Morricone.
MTV's Madeline Roth writes that other artists to enjoy the privilege of working with Bocelli include pop stars "Celine Dion, Christina Aguilera and Jennifer Lopez." It's definitely a prestige piece for Grande, who took to Twitter to express her excitement about the track.
(Though not with a minor correction to her Italian.)
Earlier this year, Grande and fellow pop singer Miley Cyrus covered Crowded House's "Don't Dream It's Over."
"I never really expected to be taken seriously as an artist, and it's just been the ultimate, proudest achievement," Grande told Cosmopolitan in 2013. "I've dealt with a lot of people not knowing what to expect from me because of my age and my personality. People often mistake my kindness for weakness, and they didn't expect much from me, because at the end of the day, I'm just a nice Italian girl from Boca."
h/t MTV