The Latest Numbers Show Great Things for Bernie Sanders — But Not Donald Trump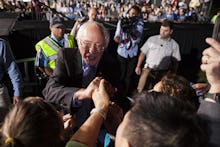 There may be big changes soon ahead in the presidential race, according to a new survey of nearly 500 voters.
A new NBC/Wall Street Journal poll released Sunday finds bad news for Donald Trump and pretty good news for grassroots-oriented Democratic candidate and Vermont Sen. Bernie Sanders.
What it says about the Republican field: Trump and neurosurgeon Ben Carson are now racing "neck-and-neck" with each other, with Trump's lead over him shrinking to just 1% — well within the margin of error of over 6%. Trump now leads the field at just 21%, with Carson at 20% and former Hewlett-Packard CEO Carly Fiorina coming fresh off a strong second debate performance to tie with Florida Sen. Marco Rubio at 11%.
Trump might not be hurting as badly as the survey indicates, since other polls haven't shown his lead dip nearly as much. Unfortunately for Trump, his bomb-lobbing campaign has put him at the center of attention and allowing himself to be overshadowed by another candidate might burst the Trump bubble.
His decline in popularity may well reflect growing concerns over his many liabilities as a candidate, from his long history of sexist statements about women to his alienation of many key Republican power brokers. He has also failed to put down challengers like Fiorina in the first two major GOP debates, perhaps cracking some of his aura of invincibility.
If Trump breaks further, the Republican Party risks falling into the same flavor-of-the-month infighting that marked the 2012 primaries, when a series of candidates from Newt Gingrich to former Godfather's Pizza CEO Herman Cain each briefly seized front-runner status. Or the GOP could rally around an as-of-yet to be determined contender, which would ultimately be good for the party by removing Trump's considerable negative impression among the general public.
What the poll says about Democrats: Trump and Democratic front-runner Hillary Clinton may disagree on virtually every issue, but she's sharing his pain as the poll also found Clinton's lead over Bernie Sanders has decreased to as little as 7%.
When Vice President Joe Biden, who is still widely rumored to be considering a presidential run, is factored into the questions, Clinton polls 42% to Bernie's 35% as the first choice among Democrats.
However, Sanders doesn't fare quite as well when Biden is no longer factored in, polling just 38% to Clinton's 53% when the race narrows. Biden has recently hinted he and his family may not be ready to throw his hat in the ring while there is still an opportunity to do so, so this may be the more realistic of the two assessments.
Still, this second poll shows Clinton's support has shrunk by nearly a third from June, when she had the support of 75% of Democrats. Sanders has more than doubled from his 15% support that same month.
If there's one thing to take away, it's that neither party has generated a truly decisive consensus with their core voters on a nominee. Trump is showing signs of deflation, while Sanders is doing remarkably well for a candidate who many initially saw as a bump on the road to an inevitable Clinton victory.