Netflix Releases Schematics for Instant Netflix and Chill Button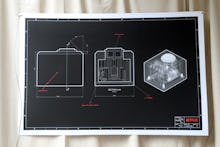 Getting off of the couch to do anything is terrible, especially if your plan is to be on the couch binge-watching shows and snacking anyway.
At the 2015 World Maker Faire this weekend, Netflix debuted its prototype and instructions for constructing a giant button the company calls "The Switch." When pressed, the Switch dims your lights, orders you food, turns on Netflix — and silences all incoming calls.
To build one, you'll need to understand electronics prototyping, APIs, basic schematics and how to build network-connected devices. If any of these things are over your head, you will likely have to continue manually performing all of your binge-watching preparations.
"This is for makers, and everyone who've already thought about this or done it in some form," a Netflix brand creative representative told Mic when we swung by the small lounge they built for the fair. "Personally, I could not do this."
It was Netflix's first appearance at the World Maker Faire, which is like the world's largest science fair for drones, 3D printers, connected devices and hackable projects. On a pad where Netflix was taking requests for its next project, someone named Kathryn left a suggestion for "a dating portion of Netflix that allows you invite someone to 'Netflix and Chill,' and gives you a suggestion for what to watch based on mutual preferences."
Clearly, the next generation of maker and inventors have the right ideas for our future.