Anonymous Hackers Target Saudi Government Over Planned Execution of Teen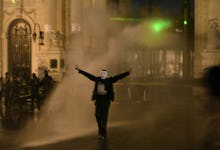 Over the weekend, hacktivists claiming affiliation with the loose collective known as Anonymous took aim at Saudi websites over the pending crucifixion of Mohammed al-Nimr who, in 2012, was arrested for participating in anti-government protests. Al-Nimr was 17 years old at the time.
Anonymous has joined a growing army of al-Nimr supporters who say the sentence was unjust and are seeking his freedom. On Sept. 22, United Nations experts said Al-Nimir's conviction "fell short of international standards," and called on the Saudi government to halt the execution of minors.
"Hundreds of innocent people die each year because of the Saudi Arabian government and they will now be punished for their actions," hacktivists claiming association with Anonymous said in a video published over the weekend. "After being detained at a juvenile offenders facility, Ali was allegedly denied access to a lawyer and subjected to torture. Campaigners also claim he was forced to sign a confession, which has formed the basis of the case against him."
A second video addressed Saudi King Salman bin Abdulaziz Al Saud directly. "It seems you have ignored our letter and video directed to you. Since you have ignored our wishes we will now take action for your ignorance," the activist origination said. "The Ministry of Justice was taken offline a few days ago and we will continue to do this to other government websites... We hope you listen to us this time and release the young man. You will be treated as a virus and we are the cure."
Several government websites, including the Ministry of Justice, were down Sunday for several hours, the Telegraph reports. The attacked websites appeared to be back online by Sunday afternoon, International Business Times reports, though Anonymous told the publication to expect another "huge attack."
Thirteen judges upheld Al-Nimr's execution, HelloU reports, which means the sentence now awaits King Salman's approval. 
The hacktivist organization isn't alone in the fight for Al-Nimr's liberation. 
Between August 2014 and June 2015, Saudi Arabia executed at least 175 people, according to human rights group Amnesty International. The death toll continues to rise. At least 102 people were executed in the first six months of 2015, up from 90 during all of 2014, according to the group's report. Among those who were executed were juveniles. 
"Saudi Arabia's faulty justice system facilitates judicial executions on a mass scale," Said Boumedouha, Middle East and North Africa deputy director at Amnesty International, said in a statement. "In many cases, defendants are denied access to a lawyer and in some cases, they are convicted on the basis of 'confessions' obtained under torture or other ill treatment in flagrant miscarriages of justice."