The Zendaya Doll Is the Barbie We've Been Waiting For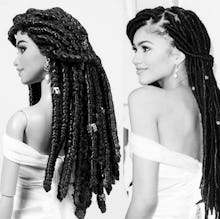 Barbie has been marketed as not just a toy, but a role model for young girls. Mattel, Barbie's parent company, seems committed to that mission. Last week, the company announced that it will model a doll after 19-year-old performer (and role model to many) Zendaya Coleman.
Zendaya, who posted new images of the doll on Sunday, noted that the doll is not only a personal honor, but indication of the toy company's encouraging progress.
"I'm excited to be a part of the new direction the Barbie brand is headed, specifically how they are celebrating diversity in the line and encouraging kids to raise their voices," Entertainment Weekly reported the star said in a press release. 
More than a doll: "I don't know any other toy that has generated so much discussion and so much passion and so much, usually, ambivalence," author Peggy Orenstein told NPR of Barbie in 2008. "You either see her as the embodiment of oppressive, Teutonic standards of beauty, or you see her as all that is good and sweet and innocent about your childhood. But you can't not have a relationship with Barbie."
Multiple studies show that Barbies do, in fact, affect multiple aspects of young girls' self-conception. One 2014 study found a group of 37 girls ages 4 to 7 expressed suppressed career ambitions after playing with Barbie dolls, even presidential or astronaut Barbie dolls. Another study found Barbie's anatomically impossible body proportions negatively affect girls' body image. When it comes to girls of color, Mattel has been criticized for Barbie's decidedly "white" features, as well as other racist iterations of the doll and its marketing.
Time for change: It's meaningful that this doll is modeled after a young woman of color (with gorgeous dreadlocks), who has proven herself a substantive role model. The former Disney star perhaps most notoriously wrote a sharp response to racist criticism she received for, notably, the very style on which her Barbie is modeled. Zendaya has also taken many opportunities to publicly push back on cultural appropriation, body-shaming and other forms of closed-mindedness. 
Zendaya knows the importance of this type of representation.
"When I was little, I couldn't find a Barbie that looked like me," she wrote on Instagram on Sunday. "My... how times have changed. Thank you @barbie for this honor and for allowing me to be apart of your diversification and expansion of the definition of beauty. Can't wait to keep doing amazing things with you."