Meet the Hijab-Wearing Model Who Just Got Cast in a Major H&M Campaign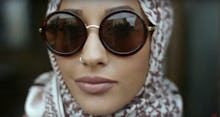 The fact that a strikingly beautiful 23-year-old just landed an H&M campaign isn't all that surprising. What is surprising is that the model, London native Mariah Idrissi, wears a hijab.
According to Fusion, earlier this year Idrissi received a call from a model scout who wanted to cast her in "Close the Loop," a sustainable fashion campaign for H&M. At first, Idrissi was skeptical, asking the scout, "Are you sure they know I wear a hijab?"
A brand new kind of spokesmodel: Idrissi, who is of Pakistani and Moroccan heritage, got her start in the fashion world on Instagram, where she currently has more than 4,500 followers. Idrissi also shot to fame thanks to her role in founding Salon Marrakesh, a salon in the English town of Westbourne, south of London, that specializes in henna and halal nail polish for Muslim women, who are traditionally prohibited from wearing polish when they pray. 
"To finally see a hijabi [a woman who wears a hijab] in mainstream fashion is a big achievement," she told Fusion.
Idrissi said that during the campaign shoot, H&M was respectful of Idrissi's dress code and even tried to limit her interactions with men on the set. 
"If the cameramen noticed something not quite right, they would call a woman over to fix me, it was sweet," Idrissi told Fusion. "One of the watches was dangling in the wrong way, and rather than just twisting it on my wrist, the cameraman asked a woman to come over. It just showed that little bit of respect."
So-called "Muslim style" leans toward a more modest aesthetic, but that doesn't mean it can't be absolutely stunning. In Idrissi's ad, she stands in a doorway, glamorous as all get-out, in a blush coat with a checked hijab and a pair of oversized sunglasses, while the ad's voiceover calls her "chic." 
Giving diversity a whole new meaning. The video for "Close the Loop" features an amputee model, plus-size models and a group of Sikh men, as well as a slew of gender-bending models of all ages. As the video's voiceover emphasizes, H&M wants you to shun society's expectations. "Wear a short skirt after 40. Wear a short skirt if you're a man," the campaign video says. "Try too hard. Don't try at all." 
In short: Wear what you want.  
The fashion industry has echoed this sentiment again and again. Recently, Shayne Oliver, the founder and designer of the men's brand Hood by Air, advocated for gender-bending in fashion. "My friends wear bras — and they're men. Menswear is not glamorous, and womenswear is, so why not mix the two together?" he told W.  
H&M's new campaign is clearly intended to rebel against industry standards and pay attention to a highly underserved market. "It always feels like women who wear hijab are ignored when it comes to fashion," Idrissi told Fusion. "Our style, in a way, hasn't really mattered, so it's amazing that a brand that is big has recognized the way we wear hijab."
h/t Fusion