NASA Mars Announcement 2015 Live Stream: Space Agency Confirms Liquid Water on Mars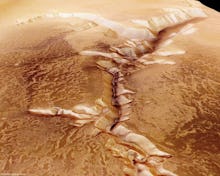 NASA shared a big secret with us Monday morning. The government space agency confirmed during a live stream event the red planet has liquid water flowing on its surface, according to images taken from NASA's Mars Reconnaissance Orbiter. The finding gives weight to the theory that the planet could have supported life at one time — or still does today. 
NASA broadcasted its findings via a live stream on its official website at 11:30 a.m. EDT Monday from the James Webb Auditorium at NASA Headquarters in Washington, D.C.
Prior to the media event, the agency provided few details on what information would be shared, other than to say that "NASA will detail a major science finding from the agency's ongoing exploration of Mars," according to a press release. The agency announced during the live stream that the planet has salty water flowing on its terrain.
According to CNN, the keynote speakers of the event also happened to be the authors of a paper being presented at the European Planetary Science Congress later this week. The researchers seemed to have image-backed data indicating water is flowing, at least occasionally, along the planet's surface. 
Sept. 28, 2015, 12:15 p.m. EDT: This story has been updated.