Tess Holliday Is Rolling Out Her Own Body-Positive Clothing Line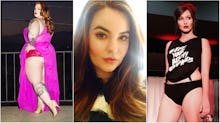 Tess Holliday is already a world-famous body-positive activist and plus-size model, and soon she'll be able to add "fashion designer" to her resume as well. The model is rolling out her own clothing line next year, according to an interview she did with the Huffington Post UK.
"I'm in the process of coming out with my own collection," Holliday told the Huffington Post. "I'm designing it now and it will launch next year. It's been really exciting, but stressful." She'll also be launching a jewelry line in October. 
Holliday revealed her plans for the clothing line while attending the Curve Fashion Festival, a plus-size fashion event in which retailers display items designed in sizes 14 and above. Holliday also revealed a new T-shirt design on the runway at the closing of the day's events. Designed by Holliday's fiance, Nick Holliday, the simple black T-shirt features the hashtag #EffYourBeautyStandards, which Holliday created after being bullied on Tumblr. 
The hashtag has sparked a body-positive social media movement, encouraging women to embrace their bodies by posting selfies on Instagram and Facebook. There are currently more than 940,000 posts featuring the hashtag on Instagram.
Leading a style revolution: Holliday entered the spotlight back in May after posing for the cover of People, making her the first size-22 model to be featured on the cover of the magazine. She's since become an outspoken advocate for larger women in fashion, criticizing Victoria's Secret for ignoring the plus-size industry and taking the plus-size clothing industry to task for inconsistent sizing. 
While Holliday has released few details about her upcoming line, there's no doubt that it will be welcome news for plus-size women. Because many plus-size brands are only available online and in limited sizes, many women find it difficult to find attractive clothes in their size. In fact, a study from earlier this year demonstrated that limited clothing options in larger sizes can lead to emotional turmoil for teens. 
Luckily, women like Holliday and actress Melissa McCarthy, an outspoken critic of fashion's plus-size problem who also recently released her own clothing line, are working to fill the void. Unlike many other plus-size clothing brands, which offer only a limited range of sizes, McCarthy told Refinery29 that her own line will offer sizes from 4 to 28. 
Holliday's line will also offer a wide size range. And if her fondness for skin-tight dresses and sexy lingerie on Instagram is any indication, her fashion line likely won't offer the same shapeless, frumpy garments that are so commonly seen in plus-size clothing stores. Hopefully, her new clothing line will prove, once and for all, that plus-size fashion doesn't just have to be functional — it can also be sexy and empowering, much like Holliday herself.