National Coffee Day 2015: Deals and Where to Get Free Coffee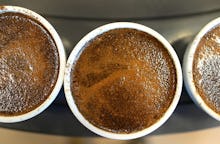 National Coffee Day, the holiest of holidays for workers everywhere, is on Tuesday. Aside from Instagram being saturated with pictures of people's lattes and Starbucks Venti iced coffees, caffeine addicts can also look forward to enjoying Tuesday's java fix for free. 
Coffee chains nationwide are celebrating by offering some pretty sweet deals. Here's where to find free coffee on National Coffee Day: 
Dunkin' Donuts: Participating Dunkin' locations are giving away free medium hot or iced coffee, reports USA Today. Limit is one per customer, though. 
Wawa: Wawa is offering a free cup of coffee in any size, according to USA Today. That's right, you can get a large coffee for free. No skimping here. 
Pliot Flying J: All locations of the highway travel center will exchange a free 16-ounce cup of coffee for an online coupon that can be found on its Facebook page.
LaMar's Donuts and Coffee: LaMar's is offering customers a free 12-ounce cup of coffee and a free mug with this coupon from their Facebook page.
Krispy Kreme: If you celebrate the holiday with Krispy Kreme Doughnuts, you'll get a free small coffee and a free glazed doughnut. 
Eight O'Clock Coffee: The popular coffee brand is celebrating the holiday by launching their new Coffee Thins. Request free samples on their website on Tuesday.